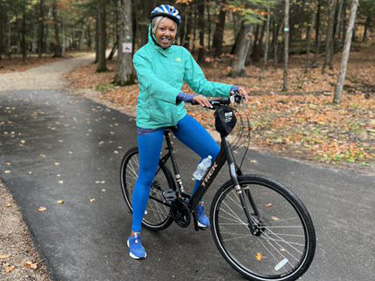 Daily exercise is a major priority of mine year-round but having fewer hours of daylight and colder weather to contend with means I need to take more precautions when planning outdoor workouts. Here are a few tips you may also find useful for being active outside this winter.
Stay hydrated: You may think less water is necessary once the heat ceases but when the temps drop, the air also gets drier in several regions. When it is cold, our blood vessels constrict to reduce the amount of heat lost through our skin, as a way of maintaining our core body temperature. Research has found that exposure to cold weather can reduce our thirst sensation by as much as 40%. So be sure to drink water before, during and after any fitness activity that lasts 15 minutes or longer—even if you don't feel overly warm or thirsty.  
Wear moisture-wick clothing: Cotton holds a greater amount of moisture than apparel made out of polyester or spandex. If you tend to sweat a lot, you'll want to avoid wearing items that will stay damp once wet—especially if it's below 45°F (7°C). "Water conducts heat away from the body 25 times faster than air," which means you will lose body heat (if wearing clothes made out of cotton) much more quickly in colder temperatures and increase your risk of developing hypothermia." Consider dressing in layers to provide your body extra insulation, ensuring that your top layer is the most waterproof. 
Put safety first: For those who prefer to walk, run or bike in the fresh air, be mindful of icy pavement and trails. Footwear should be in good condition, preferably with soles that have adequate grip on most terrains. In addition, shortening the length of your steps will allow time to assess how slippery the ground is before deciding to increase your pace. 
Another wise move is to have a tracker app (such as Life360 or Google's Family Link) active on your smartwatch or mobile device. This will make it easier to receive assistance if you fall en route.
Do you modify your fitness routine once winter arrives? Share any "tried & true" tricks in a comment below.
May 2023 be a spectacular year of wellness for us all!
—Rachel