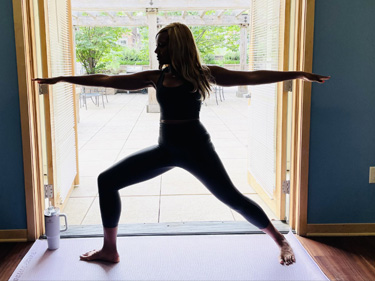 Active movement is a big part of my life. Yet there are phases when my physique isn't the most accurate reflection of the number of hours I invest in having a consistent exercise routine. We all periodically plateau in regard to gaining muscle and/or losing weight. But if you're starting to feel like the scale hasn't significantly tipped in the desired direction for several months, it may be time to troubleshoot some of these common roadblocks to maximizing your fitness potential:
Staying up late
Like I mentioned in the last blog, improving sleep habits is a goal many of us should prioritize working on this year. Constantly getting less than seven hours of sleep means you're likely to feel more lethargic no matter what time of day you prefer to work out. For those who gravitate toward high-intensity cardio or longer strength training sessions, your muscles are also getting less time to recover—since the majority of our body's natural repair functions take place while we're fully at rest.
Eating at the wrong time
If you break a sweat, that means your metabolism is doing what it's supposed to do: burning calories. But we should still replenish a portion of what was utilized during exercise with sufficient food intake. For example, if you're not a fan of eating a full meal before a morning walk or run, try eating three dates with a tablespoon of peanut butter. A half cup of trail mix or Greek yogurt are also solid choices, especially for those who prefer to exercise later in the day.
Working out too much or not enough
Cross-training is worth trying if you struggle to make time for physical recreation. Switching activities throughout the week can avert boredom before it sets in. This may also prevent injuries for those who have a tendency to over-exercise. Varying the types of movement you do is one of the most effective ways to achieve total body conditioning, as well as avoid straining one particular muscle group or weaker joints. Water aerobics, swimming, Pilates, bowling and golfing are all low-impact options that can be rotated around more "heart-pumping", fit faves such as racquetball, cycling, stair climbing, Zumba and TRX.
Have a fitness tip that's really motivated you to "get moving"? Tell us in a comment below.
Let's keep working together to welcome more well-being into world this Wednesday….and every day!
—Rachel