I recently flew to Las Vegas to escape the chill of Wisconsin for a bit. Before I left, I announced to my workplace TOPS chapter that my goal was to not gain any weight while on vacation. Our weekly meetings include a weigh-in and I wanted to make sure that I could face the scale with confidence when I returned. I've put together the following list of tips that helped me stay on track while traveling:
Plan for an active outing. The casinos and shows tend to get all of the attention in Las Vegas, but I found that there were plenty of outdoor recreational activities, too, to help me burn the extra vacation calories. For example, my husband and I spent half a day hiking in Red Rock Canyon and managed to find an outdoor gym (pictured below) in a park near our hotel.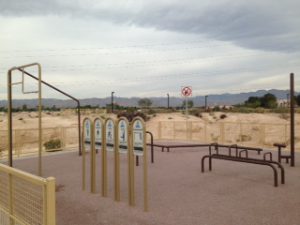 Before you head out for your next trip, do a little research and look for activities such as walking or biking tours, guided hikes in state parks or fitness classes offered at your hotel. A day of walking and sightseeing counts as exercise, too!
Pack plenty of healthy snacks. Foods like nuts and dried fruit, string cheese, bananas, turkey jerky and granola bars travel well and will keep you satisfied during long car rides or dreaded layovers.
Turn the airport into an opportunity to move. Skip the moving sidewalks whenever possible and do laps around the terminal and food court areas while you're waiting to board.
Take the stairs in your hotel. If you're on the 30th floor, get off the elevator a couple of floors early and take the stairs the rest of the way.
Plan for splurges. Vacation should be about enjoying yourself and that can include anything from decadent local cuisine to famous resort buffets. Just try not to make this an everyday occurrence.
When I stepped on the scale upon my return, I saw that I gained around one quarter of a pound. Rather than be bummed that I didn't technically meet my goal, I was happy that I found fun, new ways to keep healthy habits from taking a vacation during my trip.