Monica Thomas has disliked vegetables all of her life … until now. When she decided to be healthier, she knew she needed to include them whether she liked it or not. She started buying frozen veggies and jazzing them up with a little bit of cheese or a small serving of a healthy salad dressing (she now makes her own). She then began incorporating more salads and adding tasty ingredients like goat cheese, apples, and chicken, fish or nuts for protein. Now, she enjoys roasting Brussels sprouts and making "riced" cauliflower, which involves tossing cauliflower florets in a food processor. Check out her go-to cauli-rice dish:
Sauté cauliflower "rice" with avocado oil (olive oil works, too).
Toss in sugar snap peas, carrots, sweet peppers, endive, chopped apples and salt. If you don't have, or don't like, a certain veggie, add one you do like and don't be afraid to play with different flavors.
Serve right away or scoop the mixture into silicone muffin liners and freeze for a quick and easy bite later.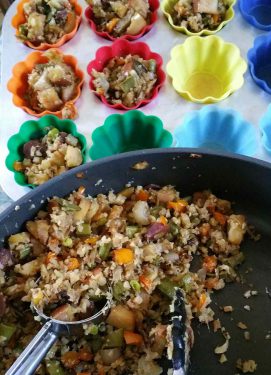 With the help of her veggie adventures, hiking and weekly TOPS meetings, Monica lost an incredible 200 pounds and is keeping it off. She was even able to share her story on the TODAY Show earlier this year.
Monica is proof that, when we're open to trying something new or different, amazing things can happen. We may find a new favorite exercise class, a more positive attitude or, who knows, maybe even a love for vegetables.
Do you have any favorite tips for eating more veggies? Share them in the comments section below!