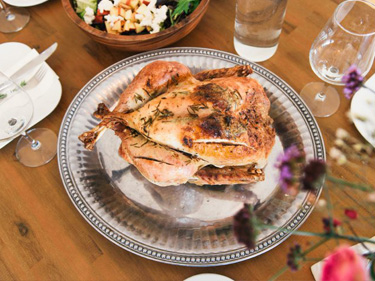 Meat-centric entrées are often the main course during holiday gatherings and it's not uncommon for folks to periodically want to "switch things up" in terms of preparatory methods. While being adventurous in terms of culinary techniques is never a bad thing, it is important to understand required cook times and temperature settings in order to avoid food-borne illness like salmonella. Here's a handy reference when you're the primary chef on duty:
1. Brine
Brining poultry like turkey helps to keep it from it drying out. The two types of brining methods are dry or wet—the latter being the traditional method that necessitates the raw turkey be submerged in a salt-based brine no fewer than eight hours. Use a dry brine if you want the outside skin to be crispy once the bird is fully cooked. This is achieved by rubbing salt all over the whole turkey before refrigerating for at least 8 hours. (*Additional pro tip: Include more dried herbs and spices in either brining solution for tastier meat.)
2. Butterfly
This method, also known as spatchcocking, will decrease the amount of time chicken needs to be baked or pan-fried since the meat can cook faster because it's not as thick. To get this cut, press the chicken breast or thigh flat after taking out the bones.
3. Air-Fry
Air-fryers are one of the most "in demand" kitchen appliances at the moment. However, in order for all meat to be properly heated inside of one, make sure there is sufficient room for the air to evenly circulate around the food placed inside. If not, you run the risk of certain parts of the meat being undercooked.
4. Grilling
If you dig a smoky finish, firing up the barbeque to grill salmon, steaks and more is the way to go. Adding a marinade will help fish, tofu and thinner meat cuts stay juicy while simmering over those hot flames.
What's your fave way to eat, drink and be merry during this festive time of year? Let us know by posting as a comment below.
Be in wellness—and eat wellness—this Wednesday,
~Rachel