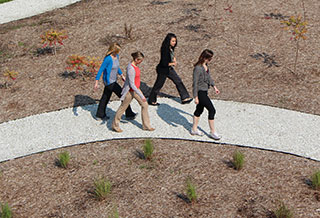 Do you know the excitement you feel when you try on a brand new pair of workout shoes or sign up for a 5K? Does this help give you the extra motivation you need to hit the gym or head out for a long walk? That's how I feel about the new memorial garden here at TOPS Headquarters. What does a garden have to do with getting excited about exercise? The garden actually doubles as a 1/8 mile walking path, making it a convenient way for our employees to fit in extra activity during the day. Many employees have been challenging themselves to walk four laps during morning break and four laps during lunch, adding up to one extra mile of activity for the workday. Below is a picture of some of our employees enjoying the new walking path.
The garden also inspired us to kick off a new walking challenge for staff. The plan is to encourage employees to rack up a certain number of laps around the track each week.
A group or personal challenge can be a great way to breathe new life into an exercise routine and help you on the path to better health, one step at a time.
Looking for more challenges?