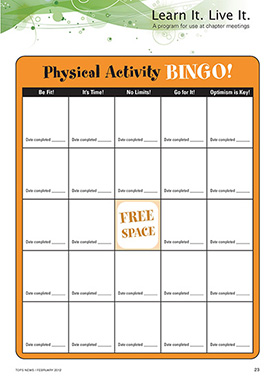 It's no secret that sitting for prolonged periods is bad for your waistline. However, you may not be aware of just how bad it can be for your overall health. Research from Northwestern University found that people who spend more time sitting are more likely to become disabled when compared with people with similar health and exercise habits who sit less.
So, we know that we need to get moving…but how can we make it fun? Try Physical Activity Bingo. TOPS offers this activity as an educational program for our weight-loss support chapters, and we'll soon invite all TOPS employees to participate here at Headquarters. Here's how it works:
Have employees fill out their own individual Bingo card using different forms of exercise they're currently doing—walking, running, elliptical machine, etc.—along with activities they plan on trying such as Yoga, a bootcamp or dance class, spinning, and so on.
Make sure employees are specific when listing activities. For example, instead of listing "walking" on their card, ask them to specify time or mileage such as "walking – 1 mile" or "walking – 20 minutes".
Encourage employees to think beyond the treadmill. Fitness is not limited to the gym, and fun activities like playing tag or shooting hoops with the kids or grandkids count as exercise too.
Participants will check off each activity square on their card, and list the date, as soon as they complete that activity.
Once employees have a full row checked off, they have Physical Activity Bingo and may turn in their card to be entered into a drawing for a prize.
To make this activity more challenging, encourage participants to go for blackout Bingo by completing each activity square.
Fitness can be fun—employees just have to find what works best for their interests and abilities. Physical Activity Bingo is a simple and light-hearted way to get started!
Looking for more ideas? Check out Walking Trivia to make it fun for your employees.