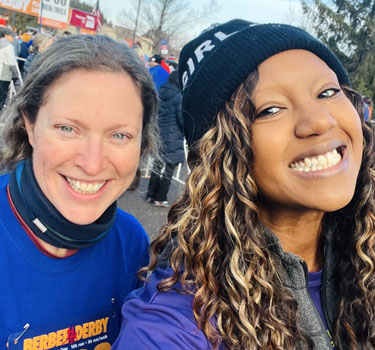 Pair up with pals to help you stay motivated to exercise regularly this summer – especially since it can be easy for the days to rapidly roll by once prime vacation time begins. Looking forward to a positive experience or a celebratory event you'll do with others can be much more effective than constantly fixating on how to avoid setbacks. It's like choosing to complain about a problem while spending little-to-no time working on a solution. So here are three ideas for ways to keep moving with your fit tribe over the coming months:
1) Streak It
Agree to keep track of how many consecutive days you can each work out, meditate, hit your hydration goal, etc. Challenging each other to consistently meet a daily goal for a pre-determined number of consecutive weeks will provide accountability for your chapter or friend group as a whole. Also, consider scheduling a few recreational outings as additional positive motivation to remain active.
2) Spread the Word
Is there a local nonprofit that has an annual race or ride to raise money and awareness about a community initiative, health condition or social justice issue? If so, think about forming a team to participate in this year's event. Then share with others online and in person about what day you'll be lacing up for a good cause. You never know who else might be interested in donating – or joining your running or cycling crew.
3) Sign Up Together
If you've been itching to try a new activity, see if you can wrangle a few folks to tag along to a water fitness class at the local pool or try an online yoga class with you for a few live sessions. Another possibility would be to meet up for a walking tour of your city or historic buildings in the town where you live. Many areas now have apps that can be downloaded to do a self-guided tour at your pace on whatever day works best for everyone.
I am actually doing a "Mad for Madtown" challenge on Memorial Day weekend which will involve running a 5K with my daughter the night before I run a 10K in the morning with one of my closest friends. Do you also already have fit plans with friends penciled into your calendar? Tell me more in the comments thread below.
Lean into your wellness warrior spirit this Wednesday!
—Rachel