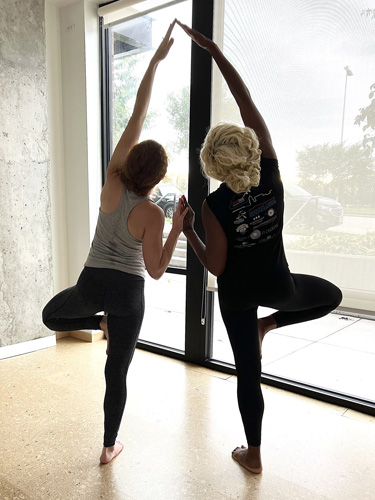 Gym memberships, yoga classes and indoor cycling may be on your gift "wish list" this holiday season. But it is not always obvious when you start working out in a new environment if you've entered a positive and supportive space. Building strength, losing weight and maintaining an active lifestyle may be your goals. However, some fitness cultures may leave you feeling diminished rather than empowered—especially if there is more of a focus on fostering competition rather than camaraderie amongst the regulars.
Before investing a significant amount of time, plus money, by signing a long-term contract (or asking family or friends to treat you to a pass package), inquire about a trial period or a free class. This will give you the opportunity to assess how much of the fitness culture is filled with good vibes versus toxic energy. Details to reflect on include:
Does the staff encourage members to make choices that promote overall health?
Are workouts designed for a variety of ability levels?
Is the staff making an effort to foster inclusion and diversity in terms of race, ethnicity, gender and body size?
Are members educated about how to safely execute all exercises?
Does any staff use negative motivation prompts such as insults, shame or embarrassment?
Has spending time there lowered your self-confidence—or your desire to exercise and/or eat healthy?
Is individual progress being evaluated (and celebrated) solely based on physical appearance?
Are previous fears or traumatic experiences being triggered by bullying or coercion to participate in activities that may be too strenuous for your current health status?
Do you leave feeling invigorated by the activities you've participated in—or deflated by how "far you still have to go"?
If you consistently feel like the places(s) you engage in sports, group fitness or other forms of recreation are tanking your mood instead of sparking beneficial, incremental changes, it's likely not the right fit tribe for you. Ask your TOPS chapter members if there are alternative programs or studios in your region that they recommend. Also feel free to post specific inquires below.
Let living in wellness continue to be your "why" this Wednesday.
—Rachel