If you had told Patsy Casteen three years ago that she would be running countless races, line dancing on the TODAY Show, hula-hooping in Orlando and representing TOPS at a medical conference in Philadelphia, she would have laughed in disbelief. Since rejoining TOPS in 2014, Patsy (pictured left) has lost 100 pounds and feels healthier and more active than ever. Her motto is, "you gotta move to lose," and she keeps moving by making exercise fun. Check out Patsy's top tips for staying active.
Choose activities that you enjoy. This may sound simple enough, but have you ever joined a gym only to find that you weren't really a big fan of gyms? There are plenty of other ways to stay active including trying a local fitness class at a community center, walking your dog, riding your bike or tossing a Frisbee around with your family. Try not to get down on yourself if you get bored with an activity; use this as an opportunity to try something new.
Squeeze in activity whenever/wherever you can. Being more active doesn't necessarily have to include planned and structured exercise. Look for opportunities to get moving whenever you can. Patsy parks her car farther away from her destination when she can and opts for the stairs over the elevator. She even chose walking to the convention center over the free shuttle while representing TOPS at a recent conference. Every little bit adds up!
Get active with friends. Patsy keeps fitness fun by two-stepping in her senior line dancing group and doing water aerobics and 5K races with friends. She's also part of an online running group with fellow TOPS pals. Their collective goal is to run 2,017 miles in 2017.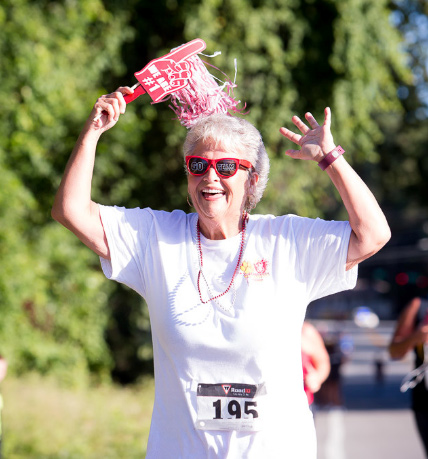 You may not always feel motivated to get moving, and it may not always be easy, but Patsy reminds us that it's always worth it.
Share your favorite tips for staying active in the comments section below!