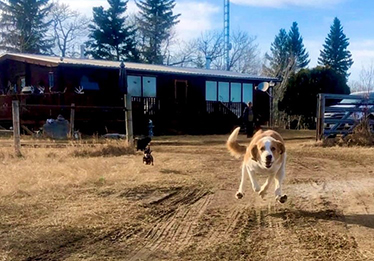 If you've dropped by this blog before, you may have noticed that I love animals. I've featured dogs, more dogs and even goats. 2020 has given me a deeper appreciation for my pets and all of the comfort they bring, even in the toughest of times. Research finds that four-legged friends can lower levels of cortisol (the "stress hormone") as well as ease feelings of depression and loneliness. When we checked in with TOPS members to see how pets are helping them cope during the pandemic, we were delighted by the responses (and the photos, of course). Here's just some of what members had to share.
"Walking my dog two times a day is great exercise. My Boston Terrier is no slow-mover." – Laura L.
"All through this pandemic, my fur baby has kept me motivated daily to venture out for walks through the Alberta landscapes. We all need to be enthusiastic about walking and 'live like someone left the gate open.'" – Barbara G.
"This is Apollo. He's my love bug and has kept me sane during the pandemic. And since I've been working from home since March, he's been a great 'supervisor' and makes sure I stay on task!" – Ashley F.
"Throughout this pandemic, my cat Aggy has been my companion. She has sat beside me while I have been working from home. I am single and not able see my family. Aggy has eased my loneliness. Her kindness and patience are something I never forget." – Liana F.
"I can't take guinea pigs for walks, but they have certainly helped calm my emotions and provided some laughs over the months." – Jennifer L.E.
As for my fur family, our two pups have had plentiful walks, belly rubs and snuggles over the past 10 months. I admittedly spend too much time worrying about the "what if's" in life, but my dogs remind me that, sometimes, all you can do is stop, breathe, relax and pet a dog.