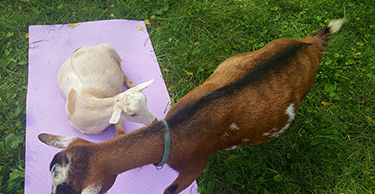 This week, I'm excited to have TOPS Marketing Manager, Kimberly Greene, as my special guest blogger.
Warm weather days here in Wisconsin are limited—Wisconsinites know that we need to get outside and maximize the sunshine. So why not get creative with how we're (safely) spending our time, especially when so many things have been postponed or canceled this year?
I've always been curious about goat yoga, sometimes known as "goatga." I'm a beginner-to-intermediate yogi at best, but my appreciation for goats is definitely at an advanced level. After all, they're adorable and generally don't have a care in the world, pretty much doing whatever they please. As my mom gets older, I've also been looking for more ways to spend time with her one-on-one. She practices yoga occasionally and is always up for an adventure, so I knew she'd be the perfect partner. I researched goat yoga in our area online, found a farm that offered gentle yoga classes accompanied by Nigerian Dwarf goats, and quickly signed us up.
As my mom and I approached the gates of the enclosed field before class started, we immediately looked at each other and started laughing. Bleating sounds filled the air, along with barking, mooing, neighing, and more. This was definitely a farm. What had we gotten ourselves into?
Well, the following hour was simply a delight. Here are my three takeaways and what you should know about goat yoga:
Even if you don't practice yoga, you can do this. Of course, you should always check with your licensed healthcare professional before beginning a new exercise program. But as our instructor mentioned at the beginning of class and throughout, goat yoga isn't intended to be a rigorous practice. Follow the sequence of poses as best you can, and if anything gets to be too much (you should never feel pain during yoga), you can just sit quietly on your mat, closing your eyes, observing other participants (while petting goats). Curious about yoga but have mobility issues? Consider chair yoga in the comfort of your own home.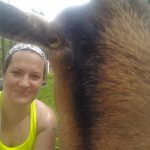 It's not really about yoga. Goat yoga encourages you to leave your troubles at the door (gate). Forget your worries as goats of all ages and sizes nudge and walk on you for petting and treats. Laugh as they track their dirty footprints across your mat or simply decide to plop down and snooze in the space where you were just standing. Take a few selfies as they sniff your face. The entire experience is lighthearted by nature and sure to relieve any lingering bad mood. (Speaking of putting you in a bad mood, keep in mind that most goats are not potty-trained. Bring along some sanitizing wipes just in case!)
You don't need a bucket list. One thing our instructor said that particularly struck me was how many people come to her goat yoga classes as a "bucket list item." You don't need to be near the end of life's journey to want to expand your horizons or do something dramatic. Don't wait to try something new. Don't wait to do that thing you've always been curious about. There's no time like the present.
I'm curious—have you ever tried goat yoga? Would you want to? What are some other unusual ways you're staying active this summer? Tell us in the comments below!