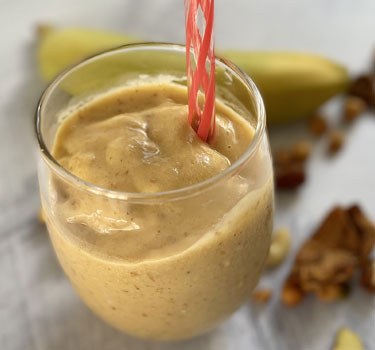 You may have noticed in January/February 2023 issue of TOPS News a short teaser about my first cookbook being released this spring. One of the topics I candidly discuss in the opening section is how I became sober-curious during the "safer at home" phase of the COVID-19 pandemic. Since then, I've been gradually transitioning to an alcohol-free life and am planning to have my last drink either on (or before) my birthday later this year. But if you think a social life sans alcohol sounds rather dull, it certainly doesn't have to be. There are already several mocktail suggestions posted in the TOPS member portal, plus I'm sharing these two nonalcoholic sips from "Macro Cooking Made Simple" to help expand your dry bartending repertoire.
S-n-S Toddy
The "S-n-S" stands for sugar and spice—and this drink is a stellar choice for a cool summer evening sitting by the fire when you're craving an alcohol-free nightcap.
Prep time: 5 min. Total time: 10 min.
Servings: 2
Ingredients
3 c. water 2 Sweet and Spicy or orange spice tea bags
2 t. maple syrup or 14 g honey
2 t. fresh lemon juice (or to taste)
1 to 1 ½ t. ground cloves
2 or 3 cinnamon sticks
2 or 3 lemon slices (optional)
Directions
1. Bring the water to a high simmer in an electric kettle or teapot on the stovetop. Add the teabags once removed from the heat source and steep for 3 to 4 minutes.
2. Equally divide the maple syrup, lemon juice, cloves, and cinnamon sticks between 2 or 3 mugs.
3. Pour the tea into the mugs, stirring each until the maple syrup is blended. Use the lemon slices for an extra burst of citrus, or as an edible adornment, if desired.
Per serving: 24 calories (0 from fat); 0 g fat (0 g saturated fat), 0 g cholesterol, 14 g sodium, 0 g protein; 6 g carbohydrate, 0 fiber, 4g sugar, 0 g protein
Low-Cal Lassi
When I'm hanging lakeside or hosting a summer soirée, this drink is just as tasty as a piña colada or other frozen cocktails yet has far fewer calories.
Prep time: 5 min. Total time: 10 min.
Servings: 2
Ingredients
1 c. plain nonfat yogurt 1 c. frozen mango chunks
1 c. almond milk or other nondairy milk
1 T. ground cinnamon
1 T. ground flaxseed (optional)
1 T. honey or agave (optional)
Directions
1. Using a blender or food processor, puree the yogurt, mango, almond milk, honey, cinnamon and flax, if using. Divide between 2 glasses and promptly enjoy or refrigerate for up to 1 hour before serving.
Per serving: 212 calories (27 from fat); 2 g fat (0 g saturated fat), 6 g cholesterol, 113 g sodium, 13 g protein; 38 g carbohydrate, 4 fiber, 33g sugar, 13 g protein
Feel free to mix-n-match flavor combos to come up with your renditions too. Or if you already have another fave N/A recipe, tell us about it in this week's comments thread.
Cheers to a "'wellness-filled" Wednesday—and summer just ahead!
—Rachel