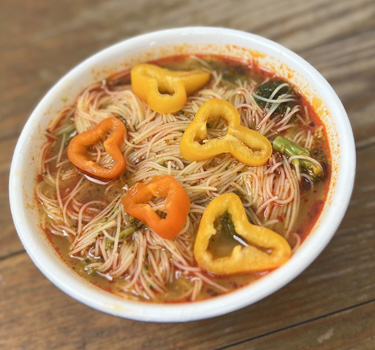 In case you didn't know, the TOPS team loves member requests! We recently were asked to provide more meal ideas for those currently managing Type 2 Diabetes. Ask and you shall receive! Both recipes I am sharing this month are diabetic- and budget-friendly. They also require minimal prep which means you'll have plenty of time after cooking to get back to enjoying these final weeks of summer.
DIY Ramen
If you miss the ease (and low cost) of pre-packaged ramen, try this homemade alternative that's much lower in sodium, plus is more nutrient dense.
Prep time 10 min. Total time 20 min.
Servings: 1 (GF option, vegan, soy-free, low-sodium)
Ingredients
1 bundle of soba noodles or udon noodles (1/3 package) or 1 serving of rice vermicelli noodles
1 c. of frozen veggies
¼ c. shelled edamame (fresh or thawed from frozen); optional
1 t. (5 g) ground turmeric, ginger or garlic
1 c. vegetable broth (low- or no-sodium), optional
1 T. lemon or lime juice
1-2 t. sriracha (optional)
Directions
1. Cook the noodles according to the package directions.
2. Meanwhile, stir-fry the frozen veggies (and edamame, if using) in a small skillet lightly spritzed with nonstick cooking spray.
3. Drain and rinse the noodles when done, add to the veggies and/or edamame.
4. Stir in the garlic, ginger and/or turmeric.
5. If you want to savor the ramen as a soup, slowly add the veggie broth until you reach your desired amount of soup base. Or simply savor it as a noodle dish!
6. Stir in the lemon (or lime) juice and sriracha (if using), then carefully transfer to a bowl, then savor.
Per Serving (*calculated using soba noodles, no-sodium broth and edamame): 163 calories (27 from fat); 2 g total fat; 0 mg cholesterol; 39 mg sodium; 29 g carbohydrates; 7 g fiber; 8 g sugar; 12 g protein
Garden Taco Salad
The veggies are the "meat" of this dish. So consider whichever protein you decide to use as a "topping" to be a flavor-packed, edible garnish.
Prep time 10 min. Total time 15 min.
Servings: 2 (GF, vegan option, soy-free, low-sodium)
Ingredients
2 c. salad mix, arugula or chopped kale
½ c. of cooked sweet corn
½ c. cooked ground beef or plant-based crumbles
½ c. diced tomatoes
2 T. apple cider or rice vinegar
2 t. no-salt seasoning
2 t. black pepper (fresh or ground)
2 t. cilantro, basil or oregano (optional)
Directions
1. Lightly spritz the bottom of a skillet with nonstick cooking spray.
2. Pan-fry the cooked ground beef and sweet corn for 5 minutes. Add the no-salt seasoning, plus the black pepper, to this combo.
3. Evenly divide the "greens" base you're using into two bowls, then top with the tomatoes, beef and corn mix.
4. Drizzle half the vinegar into each bowl and garnish with cilantro if using.
Per Serving (*calculated with ground beef): 141 calories (45 from fat); 5 g total fat; 35 mg cholesterol; 46 mg sodium; 50 g carbohydrates; 2 g fiber; 2 g sugar; 13 g protein
For additional instruction, watch the demo clip I created for the ramen recipe on the TOPS Club YouTube channel. Also, let me know how your homemade versions turn out beneath the videos or as a comment below.
Keep whipping up wonderful and healthful eats this Wednesday!
—Rachel