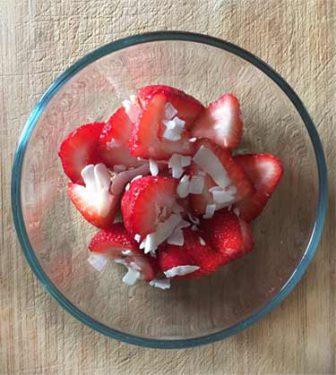 I'm convinced it's the little things that make life sweeter, and I always get excited whenever I find a healthy treat that tastes good and isn't loaded with calories. Earlier this summer, I picked up a bottle of coconut balsamic vinegar and have been spritzing it on just about everything ever since. Condiments can hundreds of extra calories, but I've found that just a teaspoon or two of this stuff goes a long way and adds a delicious tropical flavor to salads, fish and even fruit. If you're heading to a cookout this summer, or if you're just looking to try a light and tasty dessert, give this three-step fruit salad a try.
Wash fresh strawberries and slice into halves. I don't always measure when I'm cooking/prepping but one cup or so should do the trick for an individual dessert and is roughly 50 calories and seven grams of sugar.
Add strawberries to a bowl and drizzle one-half to one whole teaspoon of coconut balsamic vinegar. White balsamic vinegar works well too and is more readily available. Not so sure about the vinegar? Add a small dab to a strawberry first and sample to see what you think.
Top with one-half tablespoon on unsweetened coconut flakes, mix everything together and enjoy!
If you're bringing this to a party, add extra strawberries and coconut. Just be careful when adding extra vinegar and remember that a little goes a long way. Not quite sweet enough? Feel free to add a small sprinkle of sugar if you'd like.  Do you have a favorite light summer dessert? Tell me about it in the comments section!