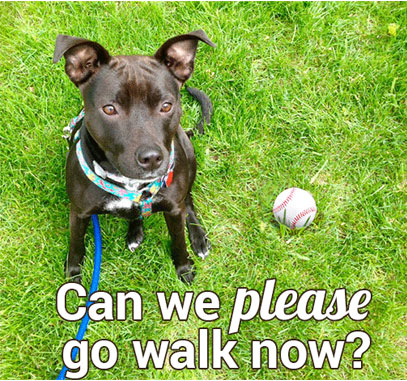 I wish I loved any form of exercise the way my dog Nellie (pictured above) loves walks. It doesn't matter if it's sunny or rainy, chilly or warm, windy or calm, Nellie greets me with the same unabashed excitement every single time I pull out her leash. I don't know if it's the chance to get out of the house, the opportunity for new sights and smells or the chance that maybe, just maybe, the neighbors threw down crackers for the birds. Whatever it is, I wish I could bottle some of that excitement for my own workouts. But, I'm not Nellie, and exercise doesn't always sound like a treat. Fortunately, if you're in the same boat, there are things you can try to make getting fit seem less like a chore and more like a fresh and fun opportunity.
Consider signing up for an adventure race. It wasn't that long ago when the most exciting part of a race was finishing it. Now, there are mud runs, color or glow dashes, rock and roll races, costume runs and obstacle courses for all ability levels. And there's no shortage of charitable walks and runs all summer-long to help you get moving while giving back.
Try a new workout class with a friend or family member. Check out your community calendar or consider signing up for weekly alerts from websites like Groupon and LivingSocial which may offer deals on local fitness classes. Don't worry about lacking coordination or natural dancing ability—sometimes, the most fun part of an exercise class is laughing and fumbling around with a friend.
Step it up with a contest. A little friendly competition might just be the motivational boost you need. Challenge your friend, spouse or sibling to see who can accumulate the most steps or mileage in a week. You can use a pedometer or, if you have a smartphone, there are plenty of free step-counting apps to try.
The next time exercise feels more like a drag than an adventure, just picture how excited dogs get before a walk. Anything that causes that much joy can't be all that bad.