Earlier this summer I went on my very first mountain biking excursion in Bend, Oregon, with my dad. I thought this would be a fun and active way to spend part of our family trip and balance out the inevitable vacation calories. And what better place to experience mountain biking than the city that's a famous hotspot for this very activity? "How hard can it be?" I thought. Turns out … it's pretty hard. When I wasn't nervously clenching the brakes down the rugged terrain, I was trying to avoid crashing into a tree or jagged rock. I'm forever grateful for the very kind and patient tour guides who kept encouraging me to trust the bike and trust myself. One of the guides noticed that I kept looking down (you know, to spot those jagged rocks) and suggested that I keep my head up and looking forward. "If you keep looking down," he politely pointed out, "that's where you'll end up."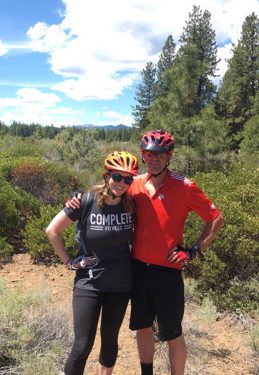 This got me thinking about trust. When it comes to making a lifestyle change or trying a new physical activity, why is it so easy to have so little faith in ourselves and our abilities? Our bodies are capable of incredible things, and I'm not just talking about gymnasts, marathoners or Olympic athletes. I love when I hear stories from TOPS members who went from being unable to walk to the mailbox to finishing their first 5K. Or members who started lifting soup cans to slowly build strength. While these members all had different physical abilities, they all had one thing in common – they had faith and trust in themselves and they believed they could do it.
Fortunately, I didn't end up taking a spill that day. I stayed focused on quieting any negative thoughts and looking forward. And once my thoughts shifted from constant fear of falling, I actually had fun. I'm not suggesting that you stay positive 24/7, because I know that's not realistic. Just have a little faith and trust in yourself and, when the path gets rugged and rocky, keep looking forward.
Have you overcome any physical obstacles or do you have any activity adventures to share? Tell me about them in the comments section below!