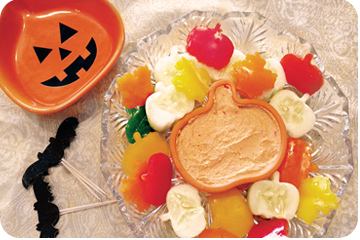 Here at TOPS, we've made a veggie skeleton, we've made "candy corn" by layering yellow and orange peppers with cauliflower on toothpicks, and now we're at it again. We bring you, the Halloween vegetable tray!
If you're planning on heading to, or hosting, Halloween festivities this year make your veggie tray anything but ordinary in just a few simple steps:
Pick up Halloween or fall-themed cookie cutters at your local craft store. We used cookie cutters in the shape of a leaf and pumpkin for the tray pictured above.
Use the cutters on vegetables like bell peppers, cucumbers or zucchini.
Serve with red pepper hummus (for its orange hue) or your favorite dip.
It's that easy! You can save the leftover vegetable pieces for a salad, soup, or stew. Who says Halloween has to be all about the candy?
Looking for alternative to Halloween treats? Don't miss 5 Ideas for Healthy Halloween Treats