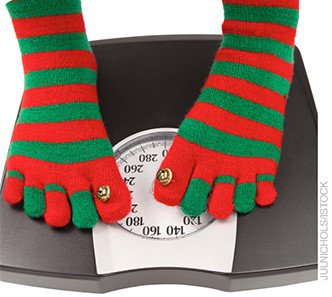 There's no shortage of healthy holiday eating and food advice this time of year. As a weight-loss and wellness organization, TOPS is happy to share this type of advice on everything from choosing holiday cookies to unique ways to get your pumpkin fix. But food isn't the only part of the holidays that can be challenging to navigate. Let's not forget about the people. We all seem to have that one pushy relative who insists that you have to try her famous pecan pie that she only makes once a year, or the in-laws who expect you to make room for multiple holiday feasts. This got us talking during our last workplace TOPS chapter meeting, and we wanted to share our advice for navigating through three common holiday eating situations.
The multiple dinner situation. It's not uncommon to be expected to attend several holiday meals in one day, especially if you're trying to keep multiple sets of relatives happy. But how do you keep up appearances and enjoy multiple visits without feeling totally overstuffed? Plan ahead! For example, if you know that Grandma Gladys has a recipe for mashed potatoes that can't be beat, and you're heading to her house that evening, be sure to save room. And don't be afraid to be choosy. Try to avoid eating the foods you don't truly love just because they're there.
The food forcer. Food forcers don't necessarily mean to be pushy. In many families, sharing food may even be a way of showing love. But how do you turn down Aunt Mary's famous pie without hurting her feelings? One simple way is to politely say that you're full from her delicious meal but that you'd love to take a piece of pie home. You could even ask her for the recipe if she's willing to share.
Unsolicited comments. When you're trying to make healthy choices, you may encounter the relative or friend who "misses the old you" or wonders why you're "eating all that healthy stuff." Lifestyle changes can be scary to the people who are closest to you, and this can lead to hurtful or obnoxious comments. Remember, this is your life and you're choosing what's best for you. That being said, having your responses planned out ahead of time is never a bad idea, and you can be assertive while still being polite. Try not to dwell too much on what others say. This just robs you of valuable energy.
We may not be able to control what people do, say, or how they feel, but we can control how we respond. We are in charge of the healthy choices that we make, not only during the holidays, but all year long.
Originally published December 15, 2015 – updated November 14, 2018.