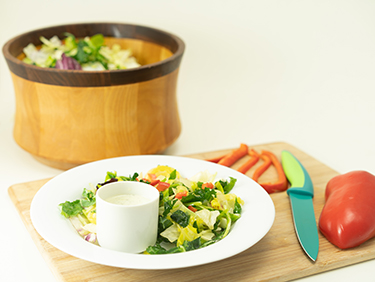 When avocados start to ripen, you have more than one move (sorry, guacamole). Make your very own avocado ranch yogurt dressing, developed by author and TOPS friend Jeanette Hurt. It's made from ingredients you may already have on hand, it's gluten-free, and it's perfect for salads, fish or drizzled over a veggie burger. Plus, while some bottled dressings can have tough-to-pronounce ingredients, this homemade salad dressing recipe keeps things simple.
Ingredients
2 T. Greek yogurt, fat-free
1 T. avocado, ripe
1 T. apple cider vinegar
¼ t. honey
¼ t. onion powder
¼ t. garlic powder
¼ t. dried dill
1/8 t. salt
1/8 t. black pepper
1 to 2 T. water
Directions
Place all ingredients, except for water, into a food processor.
Process until creamy and smooth, then thin out with one to two tablespoons water. Makes just under one-half cup of dressing.
Nutrition Information
Servings: 4 (2 T. each)
Per serving: 23 calories (9 from fat), 1 g total fat (0 g saturated fat), 2 mg cholesterol, 37 mg sodium, 2 g carbohydrates, 0 g fiber, 1.5 g sugar, 1 g protein.
Exchanges: 1 free.
If you do try this recipe, or if you modify the ingredients to add your own style, be sure to share in the comments section. And if you're a TOPS member, be on the lookout for this and other swoon-worthy salad dressing recipes in an upcoming issue of TOPS News magazine.
Here's to eating, and enjoying, delicious food made with love.