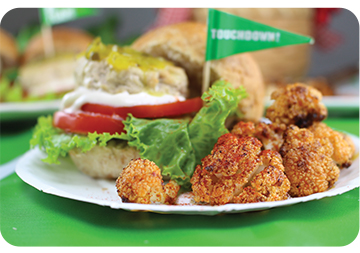 September is a great time to be a sports fan here in Wisconsin. Our pro football team just kicked off the regular season with a win, college football is underway and baseball is still swinging. Game-day get-togethers are a fall staple and usually involve food, food and more food. Fortunately, it is possible to enjoy tailgating treats while staying on track with your weight-loss goals. This past weekend I made cauliflower buffalo "wings," featured in the August/September issue of TOPS News magazine. I'll admit, I was skeptical at first, but they turned out to be very tasty and were even husband-approved. Here's how you can try for yourself:
Ingredients:
Cauliflower florets
Vegan or regular butter
Fresh lemon juice
Hot pepper sauce
Sweet paprika
Instructions:
Steam cauliflower until tender.
Melt butter, then carefully whisk in lemon juice and hot pepper sauce.
Combine cauliflower with butter mixture in a pan, and simmer until bubbling and browned.
Sprinkle with paprika.
You may also want to try tossing the cauliflower with the mixture and roasting instead, or even wrapping in tin foil and warming on the grill. If you're tracking food exchanges, one ½-cup serving counts as one vegetable, one fat and one free exchange.
When you can balance game-day treats with healthier options, it's a win-win situation!
Members, you can find more tasty tailgating options in the August/September issue of TOPS News or in the Members Area of tops.org under Healthy Eating & Recipes.