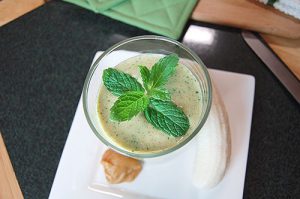 A short while back, I blogged about trying a kale smoothie. Apparently, I'm not the only one who thinks that salad greens and fruit can peacefully coexist in a blended treat. Katie Ferraro, a Registered Dietitian and nutrition expert for TOPS, shared a couple of different "green" smoothie recipes in a past issue of TOPS News membership magazine. If you're trying to eat more vegetables but can't bear the thought of another carrot or celery stick, it may be time to break out the blender. Here's a recipe for a Spinach-Peanut Butter-Banana Smoothie:
Ingredients:
1 c. unsweetened almond milk
1/2 c. water
4-6 ice cubes
1 c. baby spinach
1 frozen small banana
1 T. natural peanut butter, no added salt
Instructions:
Place all ingredients in a blender and mix until smooth.
Number of servings: 1
Per serving: 230 calories, 11 g. fat, 27 g. carbohydrate, 6 g. protein
Exchanges: ½ milk, 1 meat, 1 nonstarchy vegetable, 2 fruit
Still not quite sold? It was taste-tasted—and approved—by several employees here at TOPS Headquarters. Happy blending!