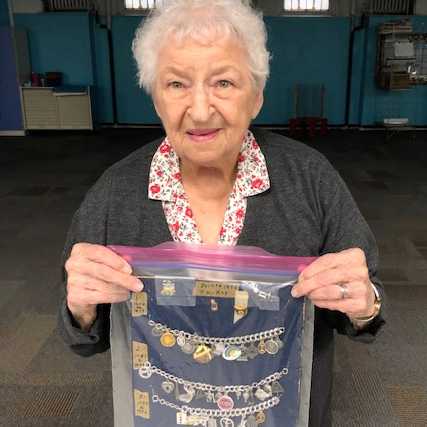 ---
When you ask people what they love about TOPS, they often mention something about our organization being more than just another diet — instead, healthy living becomes a way of life when you're an active and involved TOPS member.
And that's what it should be, if you ask me. That's what makes it sustainable. You integrate TOPS into your life, and the rest comes a little bit easier. Soon, you're growing connections, meeting people who share your goals, making better dietary choices, going on walks, turning down desserts, and you don't know where you'd be without your chapter, or your online friends.
When it comes integrating TOPS as a lifestyle, probably not many people could explain it better than Dorothy Farrar, who joined back in June of 1974.
She has served as a loyal member ever since — for 48 years strong.
Dorothy's friend, Carol Booth, emailed me about Dorothy, first in June, and then more recently, in early January. I felt immediately drawn to her story when I first read it, and then again when I was reminded of everything she's been through.
Dorothy is living proof that life can be a bit of a roller coaster; we all have our ups and downs, but when you stick with something, it's so, so admirable. The hard part can be hanging on for the ride, but this Illinois member has done exactly that.
Dorothy first joined TOPS in North Pekin, Ill. On Oct. 1, 1977, she reached her goal and became KOPS.
Just two years later, she did lose her KOPS standing, but continued on with TOPS.
During these first years with the organization, Dorothy attended different chapters, Carol said of her friend, but then in 1989, Dorothy found the TOPS group in Pekin that she currently attends. She just loves it.
It was in April 1983 when Dorothy again reached KOPS status and maintained it until May 1985. After a brief period, she became KOPS for the third time — and kept it going from February 1986 until 1989.
It was no easy feat!
At some point, Dorothy decided, "No more KOPS for me," as Carol put it, but again — she has always attended TOPS meetings religiously, and stuck with the group through thick and thin. No matter what life has thrown her way, Dorothy has maintained her membership and served as a regular presence at meetings.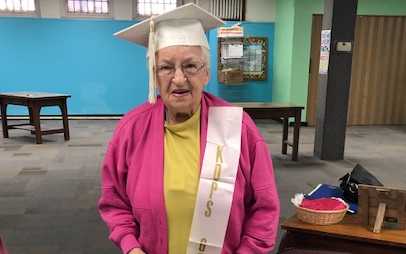 ---
Even now, Dorothy continues to be an active, positive member, always encouraging others, said Carol, adding, "The people she has met over the years have become dear friends. She gives TOPS credit for helping her to maintain healthy eating and a healthy lifestyle."
Dorothy's TOPS chapter adores her for her sunny smile, jokes, recipes and the programs she shares.
Her mechanical chicken, who does the Macarena, occasionally visits, and even leads exercises for her group to liven up the meetings. (We have to see this!)
"Dorothy is truly an inspiration to all who know her," Carol said.
Pictured is Dorothy in her cap and gown, and Dorothy displaying the charms she has earned over the years. She's part of IL 0983.
We love to hear stories like this one. Have someone you'd like to nominate? Use the link below to tell me about that person!
---
Read more 'Member of the Month' features:
Member of the Month: Nicole Johnson-Morais goes above and beyond for TOPS
Members of the Month: It's all in the family in Wright City, Missouri
Member of the Month: Meet Doris
Nominate a deserving person to be our next Member of the Month