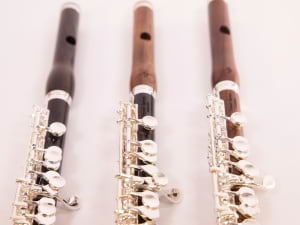 When Doris McNabb Youngquist attended college, all the way back in the 1940s, you could certainly say things were different.
She'll tell you all the ways: Doris, now 95 years old (who's turning 96 in November!) is warm, chatty and friendly. It's almost hard to keep her on track, and she'll want to talk about YOU more than herself. But she's lived an incredible 95 years – and it's not lost on her, exactly how much the tides have turned.
When Doris attended college at the University of Michigan, where she studied music, women weren't allowed to be part of the marching band, she told me in a recent phone call.
And perhaps that's what motivated her to join an alumni group for musicians in 1987, when Doris's daughter was working toward her master's degree at the same school.
Doris first learned about the opportunity from her daughter, and was excited to join the alumni band, even as an older adult.
Fast-forward to 2022, she's now the oldest living member of the group, which still performs at Michigan Stadium, or the Big House, as it's affectionately known, once a year.
And with the exception of 2020, due to COVID-19, Doris has shown up each year. She plays the piccolo, and said with a laugh, "You don't have to carry much that way."
Doris, who now lives in Massachusetts, loves making the trip back "home" to Michigan. She grew up in Dearborn, a suburb of Detroit, which isn't far from Ann Arbor. It still feels like familiar territory, even all these years later.
"I'm very lucky," Doris said. "I can still move rapidly, and move down the street at a good pace – for a little 5-foot woman, that is."
And for that, Doris is very grateful.
She recognized how much has changed within the TOPS organization, as well.
Back in the '60s, well before the days of the internet, Facebook and Twitter, it was word of mouth that lured Doris to her first meeting.
"I had five children," Doris said. "After the final two, I struggled to get rid of the baby fat. A neighbor came over one day and said, 'You know, there's this new group for losing weight. Would you like to go to a meeting?' And I said, 'Absolutely.'"
Doris's feelings weren't hurt by the suggestion. She welcomed the opportunity for change – for a new, healthier version of herself.
"Oh, I wasn't insulted at all," Doris said. "They had been in session already for a year, but that was the first I'd heard of them. So I went that day, and I've been a member ever since. This was in July 1968."
These days, Doris is in her 31st year as KOPS. She still goes to chapter meetings in person, in North Adams, Mass. She enjoys the friends she's made, and the consistency of the routine. Healthy living wasn't always an easy journey, but it has been well worth it for her.
"After I started at TOPS, I actually gained 10 more pounds (before I lost any weight)," Doris said. "But I think that happens to people. I had a lot of stress back then. I was holding down a lot of jobs. It can be hard when you're stressed. But I started working away at it in '68, and then finally in '91, (I became KOPS). I had put on so much weight in pregnancy. It took me a long time to get it off permanently. But I don't want people to ever feel discouraged, or to ever give up."
It's important to Doris to set an example for others.
"I hope I can help," she said. "That's the important thing. You go out into this world and help others by encouraging people. I think it's very important to help serve as an example."
When I received Doris's name and dialed her up without any warning, on a random Tuesday in late June, she was delighted to take my call. She spoke with pride about her longtime TOPS membership, her love for the state of Michigan (where I grew up, as well!), and her second chance to be in the marching band.
It's all been an honor for her.
"Of course, I'm the oldest one (in the band), but I'm just so glad to be able to walk and move and still do it. And I thank TOPS for that. If I hadn't gone and lost 40 pounds, where would I be?"
Know someone, or a chapter, we should highlight for an upcoming "Member(s) of the Month" feature? Email me at mganley@tops.org with your suggestions!