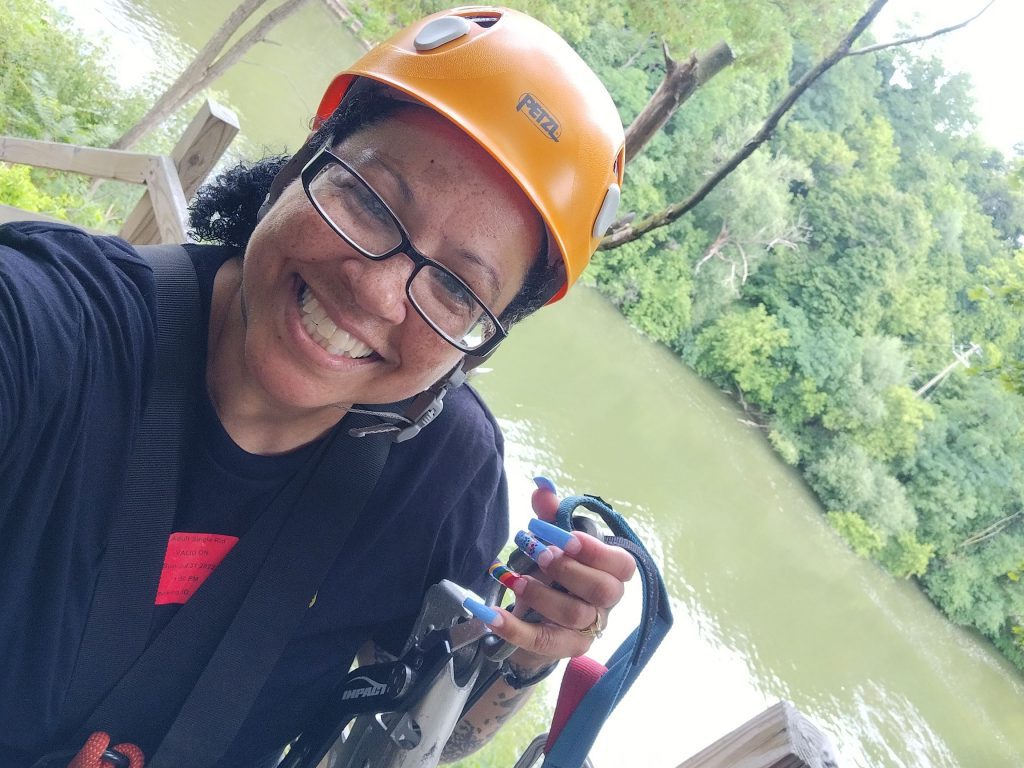 Author's note: Yes, Nicole is a TOPS Coordinator — so perhaps she falls into a different category than some of our everyday members. Still, when I asked around upon first taking this role, "Who should I meet? Who should I talk to?" I was sent Nicole's way … and I thought the interview was too great to pass up! You will likely see a version of this story in an upcoming issue of TOPS News. But for now, we're still going to highlight Nicole's excellent TOPS involvement and work.
Thank you for EVERYTHING you do for our organization, Nicole! -Michelle
---
If you need a boost of TOPS inspiration, look no further than the "desk" of Nicole Johnson-Morais.
The Rhode Island woman runs; zip-lines; restores weathered and discolored headstones at her local cemetery; spreads the news about TOPS wherever she goes; serves as a TOPS Coordinator; works full time; and paints rocks with uplifting messages, which she's known to sprinkle around town for unsuspecting people to uncover.
Johnson-Morais has been with TOPS since November 2015, and started serving as a Coordinator in January 2022. She absolutely loves what she does. You can hear it in her voice.
The 44-year-old said her whirlwind of a journey with TOPS has most certainly "been an experience," she laughed.
Her chapter includes members ranging in age from about 21 to 87. The 21-year-old is actually Johnson-Morais' daughter. To get the group going every week, Johnson-Morais aims to try something new – with everyone involved.
"It's good to keep active, moving and motivated," she said. "We have a workshop coming up next. As long as (chapter members) are willing to participate, I'm willing to lead."
And she does more than that – truly embodying the phrase "going above and beyond."
Johnson-Morais works tirelessly to promote TOPS, even in simple ways.
"We've had members over the years join from things they've seen in our local paper," she said. "Unfortunately, with COVID, we lost a few members. But I talk about TOPS all the time. I have TOPS on my car, TOPS gear, I wear TOPS T-shirts, and I leave my business card everywhere I go."
At their next planned workshop, Johnson-Morais said her chapter planned on bringing a big, festive TOPS banner. Each year, they also participate in the Walk to End Alzheimer's.
"We all wear (TOPS) shirts, and this year, we're going to have a table," Johnson-Morais said. "We'll have pamphlets, too. We definitely do our part 'advertising.'"
---
Read more 'Member of the Month' features:
Members of the Month: It's all in the family in Wright City, Missouri
Member of the Month: Meet Doris
Nominate a deserving person to be our next Member of the Month
---
As for tombstone cleaning, which is a unique hobby you don't hear about everyday, Johnson-Morais said her interest was piqued during the pandemic.
She realized she needed something to help fill her time.
A self-proclaimed "TikTok addict," Johnson-Morais found a few people on the app who were restoring old headstones and posting about the process, and she felt inspired to join the noble cause.
Johnson-Morais said it was just a matter of self-teaching – you have to use the correct products, and learn the steps – and now, she tries to get out there at least every other weekend, weather-permitting, of course. She breathes new life into the otherwise-forgotten time markers of decades past.
In a way, it parallels the work she's doing for TOPS: "Shining up" a nearly 75-year organization, and making the group look fresh and new to an audience of people who might be otherwise unfamiliar.
"I just turn on my music and clean," Johnson-Morais said of the headstones. "When you see a tombstone in its worst state, and then you do the cleaning and you check back a month later, you can REALLY see the difference. It's really rewarding."
Because Johnson-Morais is seemingly unable to do ANYTHING half-heartedly, she joined the Cranston Historical Cemeteries Commission as part of her new hobby. She's recruited a few others from her TOPS chapter to help out, as well. Johnson-Morais decks herself out in TOPS gear, and if she sees a newspaper reporter, she tries her hardest to slip in a TOPS mention for the article.
You might be asking yourself, "Why all this effort?"
Johnson-Morais said she is eternally grateful to TOPS for all the support she's found. It's the friendships, the accountability and the intangibles that make this group special.
"I haven't gotten to my goal just yet, but I will get there someday," she said. "But if I didn't get to meetings every week and weigh in, who knows?"
Johnson-Morais has been through the ringer, so to speak – having endured four back surgeries, and said the first three "didn't really work." But in her last operation, doctors implanted a spinal cord stimulator. That made a big difference.
She used to run 5Ks with her TOPS chapter from time to time, but had to put those on hold for a period, due to her medical issues. But once the stimulator was placed, she realized she could resume running. It was then that an idea started to form.
"I have a lot of tattoos, and one I got a few years ago was a big map of the United States," Johnson-Morais said. "I'm determined to run or walk a 5K in every state. And as I do them, I get the state filled in (with ink)."
While attending a TOPS meeting in the Niagara Falls area in July 2022, Johnson-Morais thought to herself, "I'm feeling good, and I haven't filled in New York just yet, so let me try it!"
That's exactly what she did. She said she loves the atmosphere at a 5K. She puts her headphones in and takes off running, the ground pounding under her feet. Her joy is unmatched.
Although she wasn't necessarily planning on that 5K, she was planning on leaving rocks behind. It was on that same Niagara Falls trip that Johnson-Morais brought along her latest batch of stones – all hand-painted and adorned with a tops.org message.
She placed them, some randomly, some strategically, while out walking. Some of the rocks had even been decorated at a recent chapter meeting. Johnson-Morais is known to order the rocks, buy paint, and let her fellow members "have at them." It's just one more way for people to come across TOPS, give the group a "Google," or learn more about what TOPS has to offer.
"If I go out of state, I always bring some rocks," Johnson-Morais said.
And as for the most recent ziplining experience, it wasn't Johnson-Morais' first time, but she said it was neat to go over a river. She has motivated other chapter members to join in on the fun, as well. You could most certainly say she's living her best life.
"A lot of this stuff is because of TOPS," Johnson-Morais said.
From a member to a Leader to a Coordinator, why does she do it?
Simply put, because she thrives when she's helping others.
"Even outside of TOPS, that's all I do," Johnson-Morais said. "I'd love to retire and professionally volunteer. I've been a volunteer probably since I was in junior high. It's just part of my DNA."