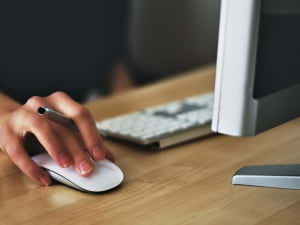 You know, we're still chatting about that first "Community Corner" email we sent to you, our TOPS members and friends.
I said it in my first blog, but a major THANK YOU (again!) for opening the email and taking a few minutes out of your day to interact with it.
The whole thing got me thinking … so many of you had similar questions and comments. There were most definitely some patterns I picked up on.
Should I do a quick "frequently asked questions" blog?
I think so — so with that said, here we are!
Welcome to "TOPS FAQs."
It's just like you heard back in school (which, for a lot of us, myself included, I know that was quite some time ago!), but if you have a question, you're probably not the only one wondering. So let's take a moment and address the class, shall we?
First FAQ: Are in-person meetings back in session?
Answer: YES, many of them most certainly are! (This does depend on your location).
I know, I know, it was quite a disappointment for many of us when the pandemic really took hold of our globe, and put chapter meetings on hold. That in-person support and accountability is incredibly important.
But the good news is, we're largely up and running again, face-to-face, so if you'd like to resume your membership or you were waiting on this news, this is your sign – join or rejoin us! We're (mostly!) back, especially if you're in the United States.
It's a little bit more of a "mixed bag" type of situation in Canada, service program administrator Carol Harper told me, but she added, "For the most part, although slow, most of the chapters are back — not to full swing, some just weigh-ins, some doing full meetings, but it is starting to roll out."
That's great news.
And of course, if COVID numbers are spiking again where you live or you're concerned about group gatherings, then you do what feels safe, in your best judgment. Keep that "social distance" in place, or your masks on, and of course, we just want you to make the decision that feels best and smartest to you. Which leads me to our next question …
Q: Can I join online? How does that work?
A: Please do come online! If you live far from a meeting or if, for any reason at all, the online model is what would work best for you, please, join this way! I attended my first online meeting several weeks ago, with facilitator Carol Holtz, and it was such a welcoming atmosphere with important discussions and a relevant program discussion. It didn't feel like "homework" or anything like that – just a great gathering place with lovely (new!) friends, and of course, zero judgment. Go to our homepage to sign up for the online program, and I'm sure we can find a meeting that fits in with your schedule. There are a LOT of options here!
Q: Where do I find more resources?
A: I received quite a few emails from members, field staffers, etc., looking for recipes, guides and general help online. I get it – things are pretty spread out on tops.org.
Just know this: We do hear and see your feedback, and we're working toward implementing some improvements.
In the meantime, here's what I would suggest:
Log into your TOPS account on our homepage.
Once you're on that "My Health Dashboard" page, look to the middle-right, at that My TOPS Resources button. Click it!
This is one of your best spots to find blogs, calendars, chapter programs, events, recipes, tools, trackers and our fun merchandise. You name it – and it's probably here.
Go to that "My Profile" page if you're looking to access your KOPS history, renewal activity, orders, or any of your personal details. You can get there by clicking on your name in the upper-right corner, once you're all signed in.
Q: How do I find a meeting?
A: Once you're on tops.org, click that "Find A Meeting" tab along the top blue bar. Here, you can enter your ZIP code and locate a meeting location to determine what might work best for you.
Q: Who is that adorable 4-year-old pictured in the first email?
A: (I thought a lighter question might be fun – lol). His name is Robby, and he's my New Year's Day baby! Born 1/1/2018 – or 1/1, at 1:11 p.m. Pretty coincidental, right?
I hope this answered some of your questions. Keep them coming; my inbox is always open! I'm up late and I do write back – mganley@tops.org.
Glad to have you as our active members and friends!