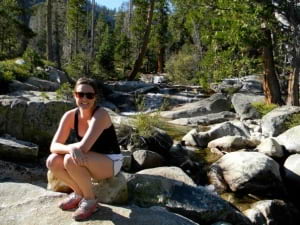 Hi, TOPS friends!
I won't start out each and every blog that follows just like an email, but really – since we're just now getting acquainted, it only feels right to jump in with a greeting.
Many of you (hopefully all of you!) received our "welcome" email in late June, which is an initiative that we just launched. I think it's incredibly important to have one easy way to communicate with all of our TOPS members and friends, so I wanted to thank you for helping us get that email off the ground. SO many of you opened it, interacted with those links and even took the time to respond to me personally, which was honestly the warmest welcome I could have anticipated! I'm so happy to meet you and step into this new role.
So, who is this new person talking to you?
In case you missed that first "Community Corner" message in your inbox, or even if you'd just like a refresher, my name is Michelle Ganley, and I'm the new communications director at TOPS. I've worked in similar roles twice previously: Once at another nonprofit, a member organization of the U.S. Olympic Committee, all the way out in Colorado Springs – it was wild, by the way; I got to live at Olympic headquarters! – and my other especially relevant job was at VSP Vision Care, a company many people are familiar with because VSP offers eye/vision insurance.
Perhaps most notably though, I've been in the news business for the better part of 14 years. I earned my journalism degree from Michigan State (I remain a BIG fan, when it comes to college sports!), and outside of those two stints in marketing/communications, I've worked within TV and digital news organizations. Connecting with my audience, trying to get your eyes on our message, determining what will get you online and keep you online – those are all things I'm very familiar with.
The news industry even introduced me to my husband, as we met in the newsroom of our NBC affiliate in Sacramento, California, and we've bounced around together (location-wise) quite a bit ever since. We now have two children who we adore; Analisa is 6 and Robby is 4. Many of you even noticed that I used a photo of myself and my son, in that first email newsletter. I agree with your assessments, by the way (says this biased mom, lol). Robby is very cute indeed!
Our family is now in the Milwaukee area, which makes sense, considering that's where TOPS headquarters is located.
And now you know everything!
Back to the relevant stuff: As the new communications director, I have quite a few goals, or things on my radar for the future and near-future:
I'm hearing you loud and clear: I've looked at ALL your suggestions on the website, and I'd love to give that space a new look and feel. We have some really incredible resources online, so I want to focus on bringing all of those "best" elements to the forefront, so that things are easy for you to find and it's an intuitive space to navigate.
Increasing membership – this is such a great group. I can tell already! I want to help you spread the word about our fantastic organization and shout the message from the rooftops: TOPS really does change lives. So many of your personal stories illustrate exactly that. I'd love to grow our group, and of course, help you current members feel heard and supported. Expect more on that soon!
And finally, I want to tell your stories of what works, what doesn't work, and your successes and even setbacks. Again, coming from the news business, being a wordsmith and considering myself a former journalist and a storyteller, I know what makes for a great headline, a strong article for the magazine and an event worth pitching to the media. Let's get more eyes on our group and our friends, and hopefully, "Field of Dreams"-style, it'll be like, "If we build it, they will come." Of course, I took some liberties with that quote, but hopefully, you get the gist!
The last thing I'll touch on – and this probably shouldn't be my ending note; I could write a whole blog about this topic! – is, I just wanted to share how much this mission and this organization mean to me.
Healthy living is something I think about a LOT. I'm a bit of an intuitive eater myself, meaning I really don't restrict much, but I listen closely to my body and I'm pretty liberal about wrapping my food up once I feel satisfied. This way, I'm never starving or feeling like I "can't" eat a certain type of snack or meal. I tried to go "keto-ish" about a year ago, and I swear, my first day in, I broke by lunch time! My husband and I still laugh about that little half-hearted attempt.
I've grown up a runner, a downhill skier, I'm a new golfer, I turned into a bit of a hiker as an adult, thanks to my time in Colorado and California; and these past 10 years, I've really gotten into hot yoga (formerly called Bikram). If you've never tried it, it's an experience! It's been life-changing for me, both physically and mentally, although I'll warn you, it is HOT hot hot in there. And that is not a typo – I intended to include those three "hots." 🙂
We're talking a 90-minute class at 105 degrees Fahrenheit and 40% humidity. It takes your body quite some time to acclimate, just to the room, and I definitely recommend checking in with a doctor before you attempt a class, if I've piqued your curiosity at all.
That's the other thing. I might talk about an exercise or recipe I've been loving lately, but just so you know: I'm just your contact from TOPS headquarters. My expertise comes in the form of grammar and media – not nutrition or workout regimens. I'll make it a point to keep that clear, moving forward. No official medical advice from me!
I'm so glad you took a few minutes to hang out and read my first blog entry. My inbox is always open, if you'd like to connect.
More to come!