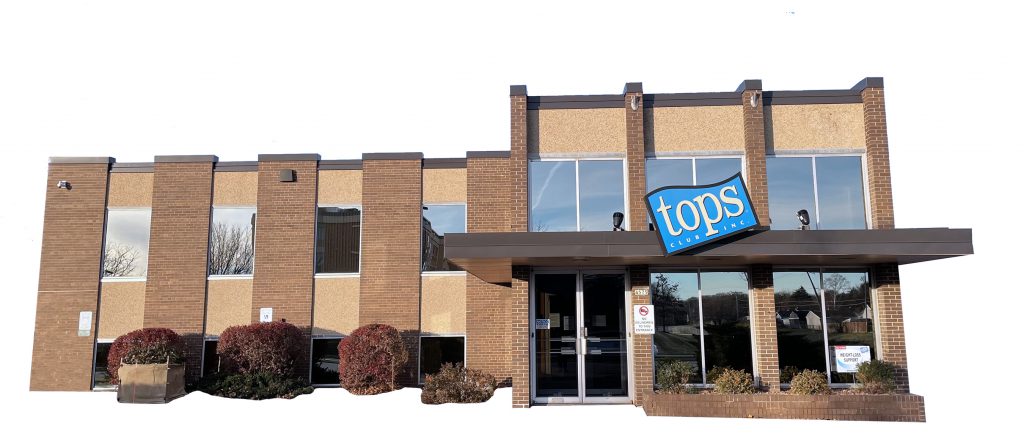 ---
Major milestone alert!
Over here in TOPS world, we're over the moon — because if you haven't seen the news just yet, TOPS Club has been added to the National Register of Historic Places.
If you're wondering exactly what this means, or why it matters, well, you've clicked on the right blog, because I'll break it all down for you.
I'll start by letting the National Park Service's website explain:
"The National Register of Historic Places is the official list of the nation's historic places worthy of preservation. Authorized by the National Historic Preservation Act of 1966, the National Park Service's National Register of Historic Places is part of a national program to coordinate and support public and private efforts to identify, evaluate, and protect America's historic and archeological resources."
We earned this notable honor on Sept. 26.
Our fearless leader, TOPS Club President Rick Danforth, spoke about it, and how it came to be, on YouTube several days ago. It's most certainly worth a listen, if you have about 9 minutes to spare.
Here are some notes:
It was back in November 2020 when Rick first presented this idea to our Board of Directors: To put TOPS Club Inc. on the National Register of Historic Places. A lofty pitch, I might add! The COVID-19 pandemic was still raging, and our organization had many projects in the works, as we often do, but regardless, the board approved the proposal and a plan was set into motion.
Quite a bit of work was needed in order to get this goal accomplished. Some of the first steps involved an application, a PowerPoint presentation, digging through our archives, going through old interviews — and that was just in order to earn approval from the Wisconsin Historical Society.
Once we got the "all clear," so to speak, from the Wisconsin group, TOPS was placed on a state registry.
Next, even more work awaited. Recommendations were made to our application, we had to learn what the U.S. government was looking for, in terms of data and historical information, and finally — finally! — we sent ourselves "off to review" with the Secretary of the Interior.
After a bit of a wait, the DOI placed TOPS Club on the National Registry.
And THAT is what we're now celebrating!
"TOPS Club Inc. is significant as one of the most influential weight-loss support organizations in the nation that collaborated with the medical and scientific community in understanding obesity — and inspired other group-supported self-help organizations. This building, occupied solely by the company since its construction in 1965, serves as the headquarters for the organization."
It's true. I am constantly bragging to friends and family about how we paved the way for other groups to come. And we're STILL collaborating with the medical and the scientific community in understanding obesity. It's work that never ends. It's part of the reason I took this job: I love our holistic approach to healthy living and weight loss. We're not into fad diets or extremes or recommending new products or cure-alls every week. This is a community about learning, science-based knowledge, accountability, unwavering support and friendships.
And as Rick said in his video blog, what an incredible honor; not only for our organization as a whole, but for our founder, Mrs. Esther Manz, who was incredibly revolutionary and inspiring, especially for her time. She started TOPS all the way back in 1948 — and who could have predicted that nearly 75 years later, we'd be receiving this massive recognition?
Our honor was a process two years in the making, or 75 years in the making, depending how you look at it. 🙂
It just goes to show, how important planning really is. (Rick said this first, but I thought I'd reiterate his great point!)
We talk a lot about lifestyle choices, planning for better health, smarter decisions, a more balanced routine … so if you need any inspiration today, tomorrow or next week, reflect back on this moment.
Two years after Rick pitched that initial idea to the board, here we are.
Where could you be in two years?
What legacy will you leave behind in the decades that follow?
Perhaps this could kickstart us.
This is a remarkable opportunity for TOPS to "bounce back" from the cloud that was COVID. Of course, the effects of the pandemic are sometimes still lingering, but we can no longer dwell on what's in the past.
Let's all keep looking ahead to the future and forging on: Anniversaries, rebuilding, winning back members who were perhaps unable to attend meetings due to COVID, or earning some fresh eyes and ears. It's TOPS, the next generation.
Cheers, friends. Here's to 75 more!
Read more about TOPS' rich history.