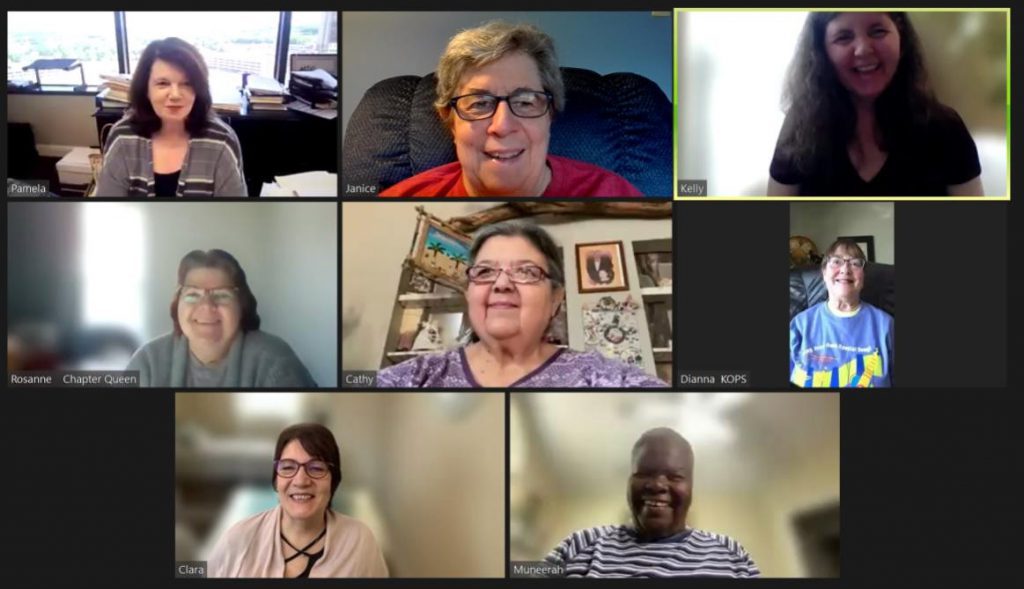 ---
Every Friday at 10 a.m. Central, eight women from across the U.S. and Canada – who were perfect strangers just two years ago – drop what they're doing, fire up their computers, and gather on Zoom. Although they haven't known each other long, you'd never realize that if you sat in on one of their chapter meetings.
"When I'm with these ladies, it feels like they're all around me, hugging me," said Rosanne Boers, one of the members. "We're truly here for each other."
Meet the members of VC 0003.
"VC" doesn't refer to a state or province, but Virtual Chapter, not to be confused with TOPS' larger, online chapter.
Feeling confused? Let's back up.
While it's true that online members and virtual members all use the internet, and specifically, the video conferencing platform called Zoom, that's about all they have in common.
If you're an online member, you choose a meeting that fits best with your schedule for that week. Five live options are available, or you can watch a recording – and the group is led by one of four TOPS Online Meeting Facilitators.
One of those facilitators is TOPS Board Member Carol Holtz, who runs the show really, and as she explained it to me, there's a program offered, and meetings typically end with what's called a "friendship forum."
This virtual experience, on the other hand, is a bit different.
It all started about a year and a half ago, when Carol sent a note to people in her online chapter, asking if anyone would be interested in something similar to what they were experiencing – but in a much smaller, self-directed environment.
A handful of people responded to Carol, and she distributed names and contact information, encouraging interested parties to get in touch with one another. And that they did. VC 0003 was born in February 2022. It was up to the group to figure out when they would meet, who would lead, and how things would operate. There would be no TOPS Online Meeting Facilitator or predetermined agenda, dictating how the meetings would run.
"As soon as the option was mentioned, I knew it was for me," said one of the members, Janice Doppler, adding that she was surprised more people didn't flock to it.
At the time of our interview, VC 0003 had only been meeting for about 14 months, but members say they're getting closer and closer every session.
"We do have relationships and we do care about one another," Janice said.
That much is evident if you sit in on one of the meetings. Members are warm, encouraging to one another, and they've built something real. Despite having never met face-to-face, they experience a strong sense of community. And sessions are packed with content: the women open by reviewing their SMART goals while they share screens, which organically turns into a person-by-person check-in. That process takes about 45 minutes.
Here are some examples of the goals they've set: "I will track my food three to four times per week." Or "I will limit sweet and salty food to two times a week for the next two months."
SMART goals, by definition, are Specific, Measurable, Achievable, Realistic, and Timely.
"With the goal-setting and the sharing, we get a chance to say what our experience is, and then, in turn, we also get to witness what other people's experience is," said Janice, who lives in Massachusetts. "I think there's power in saying what's going on, and having people listen, because for me, if I'm struggling with something and I keep it quiet, then I keep struggling with it. But if I say it out loud, then it's not a secret anymore. So it loses its power and it's easier for me to work on. And we do that for each other."
Once the women are done with the one-on-one check-ins and passing around tips – such as how to find more affordable meat and produce at the grocery store, considering how high prices have been lately – they roll right into a program. TOPS materials are often used, as are ideas from the Obesity Action Coalition.
VC 0003 has bylaws and officers, just as any other chapter would.
Members weigh-in like an in-person chapter, too, but they use the honor system and do it from home. It might not be "official" by TOPS standards, but it keeps the women focused on the task at hand: Taking Off Pounds Sensibly, of course; regardless of the medium.
Janice serves as the weight recorder, so members message her with their numbers as each meeting gets underway.
But it wasn't always like this.
The chapter had been meeting for a few months when Janice realized members were craving the accountability of a weekly weigh-in.
"It's such an important feature of TOPS," Janice said. "Even if TOPS won't recognize our weights, we should still be doing it. We're just testing things and running with what works."
The chapter prides itself on trying a variety of approaches, and sticking with what seems to be effective. The women are open-minded and welcome new ideas.
"People should know there's a whole option out there that's relatively unknown," Janice said. "When (TOPS President) Rick Danforth visited us, he said what he experienced was beyond his wildest dreams, for virtual chapters."
It took a few months to get VC 0003 off the ground, so to speak, but the experience blew me away, too. The meeting I attended was incredibly well-organized, on-topic, encouraging and goal-oriented. It was packed with connections, advice and enthusiasm.
At some point over the past 14 months, the women realized that their biggest strength was each other – and that they should lean on fellow members to lead and inspire.
"Each one of us has a talent or strength to share and contribute," said Chapter Leader Pam Jones, who lives in Louisiana. "One of us is really strong at recipes and cooking. Everyone has something that is kind of their 'area,' and they share that with the rest of us."
Pam attended in-person TOPS meetings before the pandemic, and she's not alone. VC 0003 consists of some women who've tried physical chapters, and others who were in the larger online group. Some have dabbled in both spaces.
"This is so much one-on-one," said Cathy Langley, who lives in Arizona. "We discuss everything. We share so much with each other. We each get what we need. That's a big plus in my book. I get more out of virtual than I (ever expected). And I've been in TOPS since 2009. In-person chapters were great, but this is greater, in my book."
Added Rosanne, "I first started TOPS in 2021. I found out about it through a friend, and I had tried everything else. When I got into [one of the other chapters], I didn't realize how everything worked. I kind of sat back. I was close to quitting. … But now, I'm having great success with virtual. It's probably the most weight I've lost from anything else."
The group has adapted to the virtual model, and the women are still finding ways to learn and grow. They play their version of games together, or they'll share short video clips. They like what they've built in their corner of the internet.
Two members of the chapter are former royalty. One has been KOPS. Getting everything organized felt challenging at first, especially because there wasn't really a blueprint, outside of chapters being forced to meet via Zoom due to COVID. And yet, slowly but surely, VC 0003 is paving the way. There's just one other virtual chapter, based in Utah.
"There are solid relationships here," Janice said. "We can't go out to lunch together after the meeting, but we're still getting to know one another and we're building those relationships. And people don't understand that about the virtual chapter. And we think it could be inspiring."
---
Author's note: You will see a condensed version of this story in an upcoming issue of TOPS News. And if you're interested in virtual membership, we'll have a page available on tops.org in the coming weeks, for how exactly to explore the option. If you know people in disbanded chapters or those who live in rural areas, this might be another great choice for them, as well!