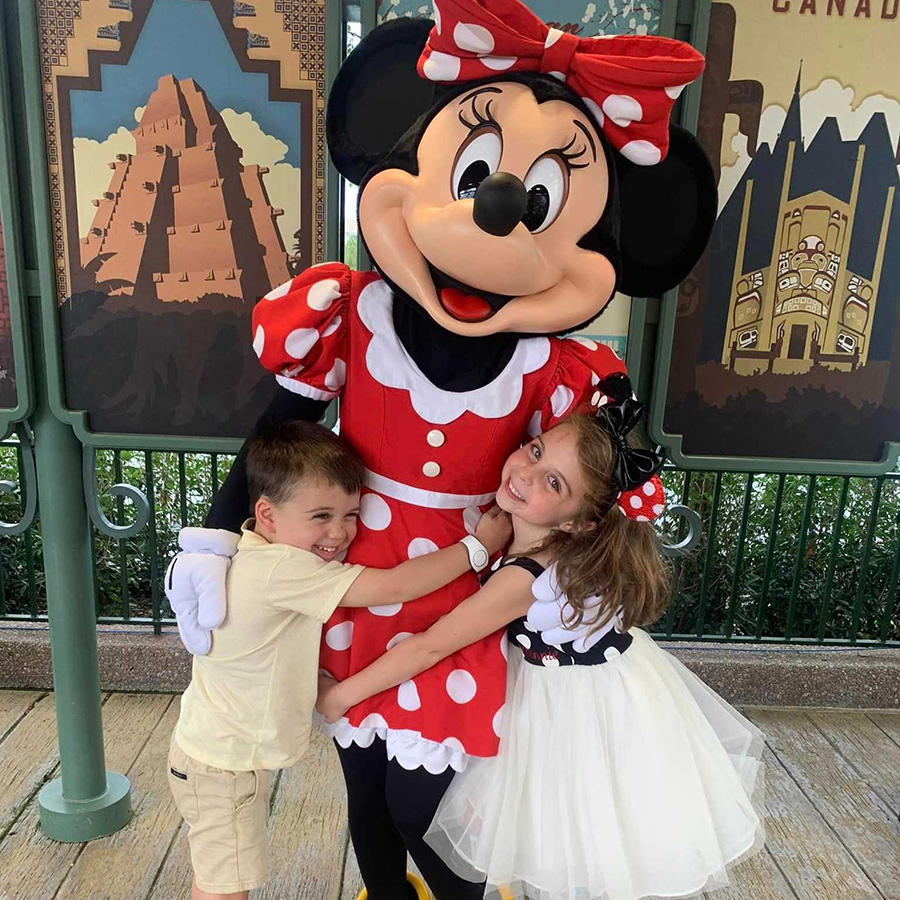 ---
Last week was my "back to work" week, following a 7-day trip to Disney World!
And yes, my family went RIGHT at the perfect time … meaning, well before Hurricane Ian showed up. Thank goodness! I was rooting for you, Florida friends and our members down south, these past few days.
Vacation talk aside, I hope you were all able to stay safe! 🙏
Getting back to my blog title here today, if you follow my ramblings regularly, then you might recall I was diagnosed with gestational diabetes several weeks back, so I've been trying to live a pretty healthy lifestyle over here. I'm definitely more carb-conscious and sugar-conscious than usual, to say the least.
And I'll admit: When I first got the news from my doctor (confirming the gestational diabetes), I was pretty bummed — and my family's Disney World trip was top of mind. Who wants to be healthy on vacation? In my head, trips are a time to let loose a bit … order the dessert, buy the souvenir; treat yourself!
But you know what?
It wasn't that bad — being relatively healthy on vaycay, that is.
I did splurge a little; I just kept things reasonable. And I hope that doesn't defeat the concept of a "splurge!"
OK, read my following tips and tell me what you think. For me, these made vacation still feel like vacation, and I don't think I missed out on TOO much.*
*Except Dole Whip. I did skip the Dole Whip. And I was bummed about that – it wasn't so much that TRIED to go without it. It was more so that we were always halfway across the park from it, or we had stroller-napping kids, or it was just hard to access. I kept saying, "I'll grab a little bowl tomorrow!" and it never happened. 😭 Click that link above if you're unfamiliar; Dole Whip is just an ice cream treat.
OK, onto those tips!
Here's how I enjoyed "vacation food," within moderation:
🍽 I ordered off the kids menu.
I realize that some places might have strict rules about this, so I'm not suggesting you anger any restaurant employees with this tip. Maybe this suggestion will work for you, maybe it won't. But it worked for my family!
We did a LOT of mobile-ordering at Disney, meaning no one is checking to see if you're with a child or not; your order is just prepared as soon as you enter it into your Disney app — and I had also read in the Disney Facebook groups that kids portions were still big enough for adults, and that no one frowned upon this practice.
So that's what I did on several occasions! It likely saved me a few dollars as well, and I barely noticed the portion sizes were smaller. What a great hack.
🥣 Split something with a kid or spouse, or just enjoy a few bites.
And be sure to savor those few bites! You'll likely find you didn't need that entire piece of cheesecake after all. Three to five small bites were enough to satisfy my cravings for something sweet.
🧁 Save your calories for the dishes that are REALLY worth it.
I do this even not pregnant: I truly don't waste bites or stomach space on mediocre grocery store cake or stale brownies. I want to splurge on dessert when it's the BEST piece of tiramisu I've had in months, and again, SAVOR it — otherwise, I just feel like, why bother?
So don't "waste" your daily sugar allowance on pop (or soda, as the rest of the world seems to call it) — wait until you find those dishes that are truly going to satisfy you.
🏃‍♀️ Move it move it!
I averaged 9-11 miles of walking a day at Disney World 😳 — at 33 weeks pregnant, mind you! Which I'm pretty proud of, so I thought I "earned" some indulgences.
If you can fit in a hotel workout or you're going to be golfing or swimming or up on your feet, I think some splurges are a bit more justified than if you're lounging around all week … within reason, of course!
🛍 Bring or buy your own food — don't just depend on hotels and restaurants.
Order grocery delivery through Shipt, Instacart, Amazon Fresh, Walmart; wherever you can — or, if it's a driveable trip, perhaps you could fill a cooler with items you know will be nice to have on hand.
Because we flew to Orlando, I had delivered …
Baby carrots and hummus (so I wouldn't just eat chips and mindless snacks the whole time)
A jug of unsweetened Starbucks cold brew (so I wouldn't order sugary coffee drinks while out and about)
Fruit
Bagel Thins and cream cheese
A case of bottled water (also so that we wouldn't have to buy it in the parks; this was a huge money-saver, as well!)
Siete tortillas (recommended by a friend! They're gluten/grain-free) that I knew I could pair with either the hummus, a little sliced turkey or whatever else struck my fancy, as an easy-to-assemble lunch option.
Hopefully this helped to provide some inspiration, if you have a big trip coming up or not!
You can't let the food make or break your trip. Did you see my smiling children above, just so happy to have finally "met" Minnie Mouse? Even though there was no Dole Whip, that memory will last a lifetime. 🥰
Until next time,
–Michelle