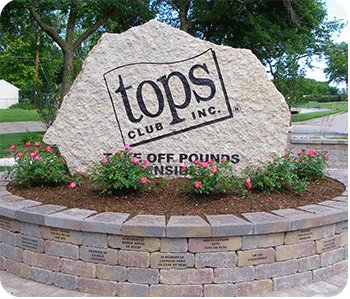 Friends! We are so excited over here for TOPS' 75th anniversary.
You can read about our history here; or check out what we're planning on doing to celebrate; complete your chapter challenge; or if you'd like to snag a T-shirt, pin, magnet or something else, definitely check out this page on the TOPS Store.
Now, if you're a close follower of all things TOPS, then perhaps you've seen these links. And that's OK! But for anyone who hasn't had a chance to look just yet, I thought I'd share a bit of a "link roundup" and give you some context as to why we're doing what we're doing. 🙂
TOPS was born around a kitchen table all the way back in 1948, when Esther Manz, two friends, and her cousin's wife, gathered in Milwaukee. Their desire was to support each other to better health.
And as you know, we're still here, 75 years later, and we think that's worth celebrating.
So with that in mind, we hope you can join us when we come together at Headquarters (still in Milwaukee!) later this year. And if you're too far to make the trek — it is just a modest gathering, for one afternoon, so we understand — we invite you to watch the livestream online. It will likely be made available on our YouTube page, although we'll have more details about that in the next few months.
And then … have you heard about the duck raffle?
I wanted to talk about how that came to be, because if you're NOT a die-hard TOPS fan, perhaps you're scratching your head right about now, asking yourself, " … Why ducks?"
I totally get it.
You see, we've had these ducks in the TOPS Store (I lovingly refer to them as the "carrot ducks" — we also used to have "science ducks," so yes, we've carried multiple types of rubber duckies!) for awhile now. These carrot ducks were actually part of an Advocate program.
Oh, and we have a LOT of them in stock. Too many! 😉
But really — thousands of ducks. 👀
Right around the time I started working at TOPS, the Service Program Administrators suggested doing a duck race as part of our anniversary event. We could sell the ducks for $10 apiece, with the winner receiving a lifetime TOPS membership. Fun idea, right? Plus, the money would go straight back to our own organization, to help us with operating costs, keeping membership prices relatively low, and benefitting our own group. I loved it!
The more that we looked into conducting the duck race itself, the more questions popped up. What body of water would we use? How would we dump them all at the same time (again, we're talking potentially THOUSANDS of rubber ducks), and how do we make sure this doesn't turn into an environmental PR disaster? You might laugh at that, but it's a valid concern! Or at least, it is if you're me, the Director of Communications, and you don't want to have to draft a statement if this thing were to go awry, lol.
ANYWAY, at the end of the day, we decided it was probably easiest to make this a duck drawing, or raffle, instead of an event involving water. We decided to name it "Lucky Duck," in honor of the person or people who are about to become lucky ducks, come October! We now have a handful of prizes available, by the way, and we're very excited to pull the winners this fall.
There's still lots of time to adopt a duck, by the way, and therefore purchase your chance to win a lifetime membership.
As I just referenced, we're also raffling off:
One 5-year TOPS membership
One 2-year TOPS membership
Two 1-year TOPS memberships
You can buy as many ducks as you'd like, or, if you're reading this blog right now but you just KNOW there are people at your chapter who aren't as internet savvy, you can feel free to purchase multiple ducks, and we'll follow up with you to talk about who gets which one, for raffle purposes.
We say "adopt" a duck, by the way, because you won't receive your duck in the mail, physically. You'll get an adoption number, so that you're aware of your raffle number, come Oct. 21. Also, if you lose it, no big deal. We're keeping a master list at Headquarters, so we'll know each name associated with each duck! You don't have to be physically present to win, and we just might re-use these ducks for a similar type of drawing in the future.
Such a cool idea, you know? I certainly think so! What a creative way to use these thousands of ducks, to earn some money for ourselves, to benefit you guys, and so that these lil quackers are NOT just taking up space in our warehouse, lol.
So now you know that little slice of back-story.
If you think of anything 75th anniversary-related later on, and you're like, "wait, WHAT was Michelle talking about? What should I read? What should I buy?" Just sign into your online account, go to the Members Area, and click on that big anniversary banner you see at the top of the page.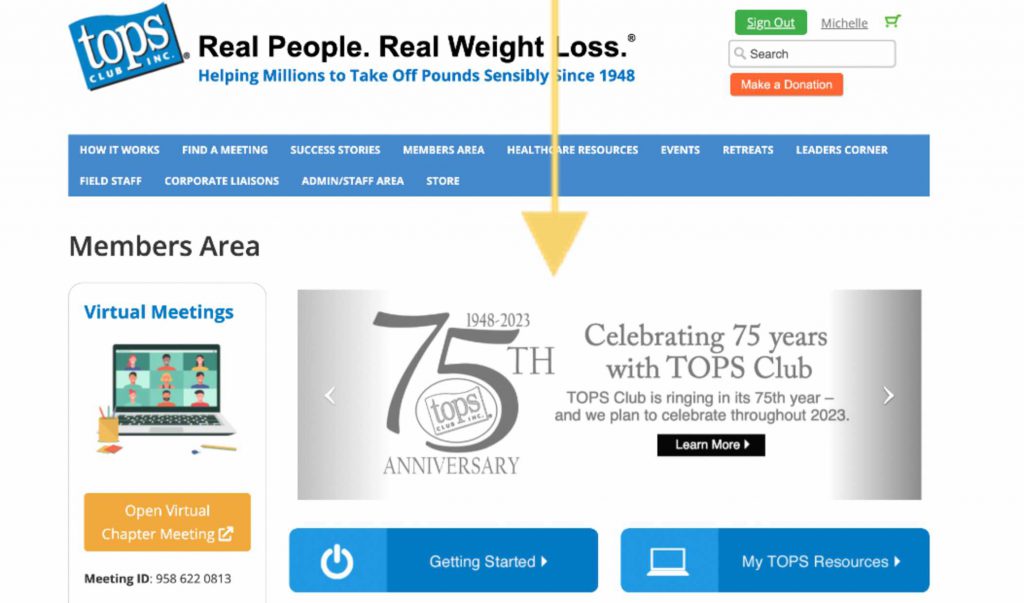 That banner contains the links you need.
Hope you choose to participate or engage in some way, with any of our 75th anniversary events in the works! Thanks for being here, and giving our organization life for this long.
xoxo, Michelle