When I first came to TOPS and was getting a tour of the building, we were in the warehouse and I saw some TOPS coloring books. At first, I was kind of confused as to why TOPS would sell coloring books as a weight loss support group, but then Michelle told me about keeping your hands busy so you don't indulge in foods you'll regret later. I thought that was such a good idea, because I'm most definitely susceptible to bored eating. Similarly, I always try to keep my mind busy so I don't have to be alone with my thoughts, and so I thought I would share some of what I do to keep my hands or my mind busy!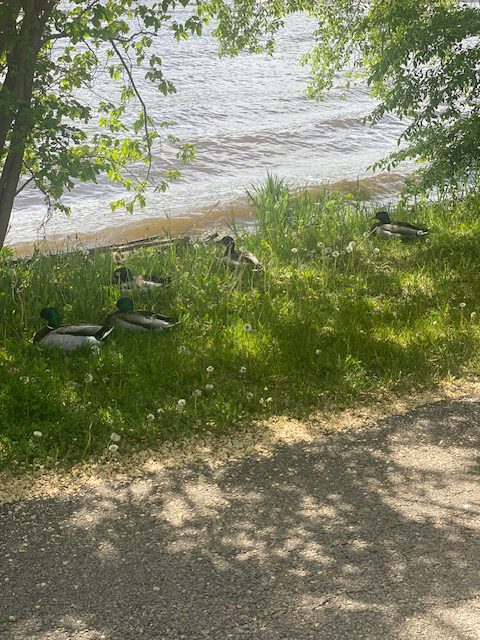 Walking

I love walking down on the path along the Fox River by my apartment. Not only do I get the exercise, but I get to be outside to soak in the sunshine, which never fails to boost my serotonin!

Bonus: Check out this TOPS News Article from George Rosenthal, IL 2115 Buffalo Grove, all about trekking poles, walking techniques and more.

Walking keeps my hands, or rather my feet, busy, but to keep my mind busy, I love listening to audiobooks! I have an Audible subscription that I just use my phone for and my recent listens (that were also 10/10 books) were:

Shoe Dog by Phil Knight

This is a memoir from the founder of Nike!

The House in the Cerulean Sea by TJ Klune

This is a fiction book about an orphanage full of six magical youth and a case worker determining if those kids might bring about the end of the world.
I LOVED this book, it's for sure going to be one of my top reads of 2023!
Reading

Beyond just my audiobooks, I love to read my physical books too. I mostly read fiction (currently finishing up the fantasy series Throne of Glass by Sarah J. Maas) but I do occasionally read some non-fiction books. Here are some of my favorite non-fiction, health and wellness-related reads:
Reading is not a cheap hobby and my books are overtaking my apartment, so I recently bought a Kindle and got a subscription to Kindle Unlimited to hopefully save myself some money and space in the long run. If you're the same way, you should check it out!

New hobbies

I've begun learning two new hobbies; one keeps my mind busy and the other keeps my hands busy (not that I do them at the same time, that would be impressive if I could, though).

Chess

I got Chess for Dummies and Chess Made Simple chessboard to help me learn. I've also been playing online when I don't have anyone to play with and so far, I'm getting the hang of it!

Crocheting

I got Crochet for Beginners for my birthday and I also got this kit to crochet a little animal that I just started. This hobby is very much new, so I'm not great yet, but working on it!
I'm always looking for more ways to keep my hands and mind busy, so share your favorite ways to stay busy down below in the comments! Also, if you have any good book recommendations or crocheting tips, please leave those too, I need them!