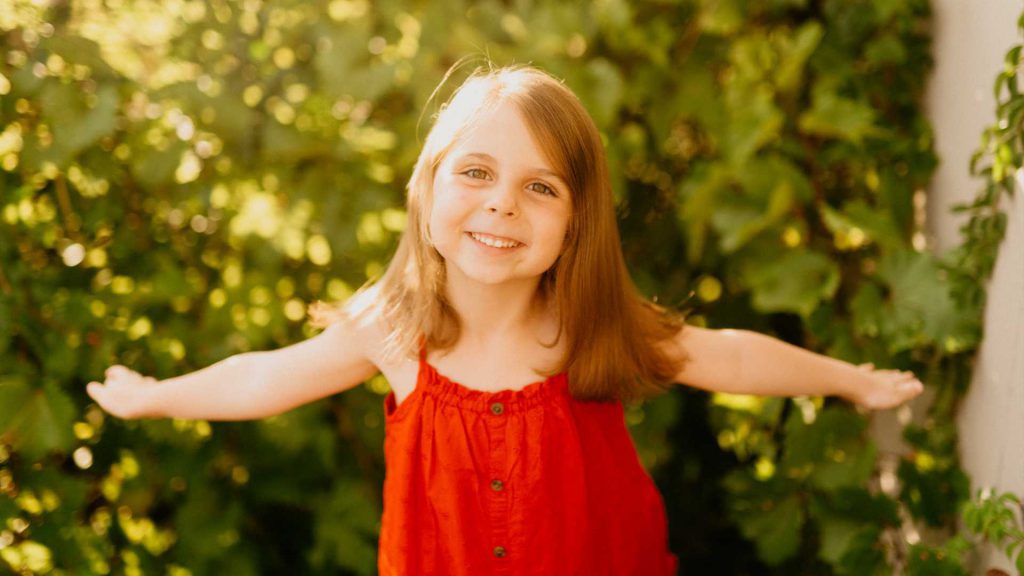 Just a few weeks ago, my daughter and I were reading the Junie B. Jones series (awful books, by the way; I have no idea what prompted me to order them off Amazon earlier this summer – even the grammar is purposefully bad!), when my little gal came across a word that is not new, but I discovered it's new to her: and that word was FAT.
Junie called one of her classmates "You big fat meanie," or something comparable, which I didn't love — and although I try to "read around" the author's cutesy poor sentence structure, I missed this one. Before I knew it, the words were flying out of my mouth, and our 6-year-old, Analisa, stopped me dead in my tracks.
"Wait. What is that?" she interrupted my reading.
"What is what?" I responded.
Junie B. Jones, or, the author, I should say, has introduced my children to several topics that I wish she hadn't – in one of the books, Junie doesn't want to get on her school bus at the end of the day, so she HIDES in her classroom at dismissal time, and makes a huge mess free-roaming the school, then calls 911 at some point when she realizes the whole charade has gone too far. Sheesh! I've found to use Junie as a poor example, and I try to react incredulously to my kids, as the story progresses, like, "Whyyyy in the world would Junie do any of that?" And my children stare back at me wide-eyed, as if to say, "I have not the slightest idea." All in all, I'm not too worried that Junie's antics will be contagious – although I won't be buying this series anymore!
Getting back to my recent FAT story though, "What is that?" Ana repeated up at me, with her inquisitive, big green eyes, full of wonder.
"What word are we talking about here, little lady?"
I just wanted to be sure.
"Fat. What does it mean to be fat?"
In that moment, all the emotions just washed over me. Ana had been cooped up in our house for the better part of two years, as were most children during the recent pandemic, and we were coming off an out-of-state move, but she's not exactly sheltered. I try to protect her from the sometimes-harsh realities of the world, but she goes to school in-person these days, as she has for quite some time now, she's got plenty of friends and social interaction, and she's even turning 7 this coming December. I'm about to have a first-grader, in the next few weeks.
I was taken aback, like, she'd never heard the word FAT?
And I'll admit, I was slightly proud of myself in that moment, as her mother.
I am in no way the perfect mom – who among us is? – although I think it's admirable that we all try our very best, day in and day out. Still, I have made a conscious effort, basically from the time Ana was born, not to throw "the F word" around while she's in my presence. The F word being "fat," of course!
Raising a daughter is a huge responsibility. Raising a son is too, but that's another topic for another day. I do think so many of us learn from a young age, sometimes from our moms and the adult women around us, that "fat" is bad, and something to fear, and that we should be hyper-aware of food, diet, exercise, counting calories – all that "diet culture" stuff, which, in moderation, it isn't always BAD, per se. And for adults, there's often nothing wrong with being conscious of these things.
But for children, this is an important time, developmentally, when they should be concentrating on all the other stuff: Playing with their friends. Adjusting to the routine of a school day. Catching fireflies in a mason jar before bed. Eating a drippy ice cream cone on a hot summer evening.
I've always made it a point never to let my daughter see me scoff at my own appearance, or do any negative self-talk, or criticize myself out loud if I'm looking a little "puffy" in a certain outfit or dress. (And I'm not immune to it! It happens to all of us, right?)
And honestly, this whole Junie B. "What is fat?" conversation kind of made my heart swell with pride, like I mentioned, if I can be candid for a moment.
We're living in a time when people love to say things like, "Everyone's so sensitive nowadays!" or "You can't say ANYTHING without offending people!" … and whether you agree with that or not, I think it's time to consider that our words matter – so much.
Language reflects and influences attitudes – and the attitudes of the people around us. I'm a writer, so it should come as no surprise that I believe in the power of words.
Words matter. The language we choose has the power to shape ideas and feelings: Our own, and others'.
It's all about how you frame something.
I remember my daughter asking me, when I was training for the 10-mile CRIM Race in Flint, Michigan, just six months after having my son, "Why are you running so much lately, Mommy?"
I did grow up a bit of a runner, but it had been years since I'd been regular, so at the beginning, this was a new sight for her.
The real answer? Well, I thought it'd motivate me to kick some of that baby weight, of course!
But what did I tell her? (Which I do believe, by the way!) "Running makes us so strong! It keeps my heart healthy and it's a great way to burn off energy and keep my body feeling balanced and just right."
I'd lace up my tennis shoes and put on some headphones and she'd join me, if only just for a quick jaunt around the backyard. It was heartwarming, really. She'd say, "Someday I'm going to run in a race, just like Mommy!"
Or if Ana's been eating too many packets of fruit snacks, or just empty carbs for breakfast one morning, and she comes to me still hungry, or with an upset tummy, or there's any issue surrounding food, I truly try to focus on teaching her how those things make her FEEL, not look. "Let's add an egg or some string cheese to the equation – or does a yogurt sound better? Something that gives you protein, or helps fill that belly up!", or an observation along the lines of, "Sounds like your tummy's not feeling great. Maybe you had too many treats? It's so important to listen to our bodies. We take breaks when we eat, we drink plenty of water, and you want to make sure you're not overdoing it, otherwise we might feel a little sick."
These days, my husband and I are pregnant with our third baby, and now that I'm into my third trimester, my stomach has grown quite round in recent weeks. Ana will sometimes watch me change my shirt and say, "Your tummy is getting SO big, Mommy!" But instead of lamenting it or complaining that none of my clothes fit just right, I'd rather smile and make the message, "Aren't women's bodies incredible? We can grow babies, right in here, just like I grew you!"
I would never call myself fat or pinch an arm roll or do any of the destructive things that, I'll be honest, I think I overheard from some adults in my life over the years, even starting as a small child.
I didn't even go on to have a complicated relationship with food, and I lived a fairly active and healthy adolescence … but what we hear from the grown-ups around us can really resonate, and echo loudly in our little ears. I wanted to be careful about this, and I was, and it seems like so far, it's paying off.
I'm just so glad.
I want my daughter to be strong and healthy, and learn good intuition when it comes to eating and her habits. I want her to strive for strength, rather than just some tiny waist size, and be impressed by her own body, even if that just means admiring her ability to run a mile or survive a tough hike.
I'll take this time to pat you on the backs, as well, and not just myself, haha, but honestly, I admire ALL of you TOPS members – women and men, parents and non-parents, for continuing on in your journey to better health.
You're setting such a strong example for the next generation. Whether it's your kids, your grandkids, yourselves, your community members — this is what we need. It's incredible. And it's not going unnoticed.
And if you're on the fence about joining, or re-joining us over at TOPS, consider doing it for your own daughter, or the daughter figure in your life. Be the change you wish to see!
I did put the book down and tell Ana that day, what it meant to be "fat," and I hope I did an OK job in my explanation. I also said that we would never use that word toward anyone else, and how careful we have to be when we're talking about someone else's physical appearance.
You can only shield your kids for so long, and I was happy to share. After all, it's just a word — and with the proper context, I think she'll do fine with it. It was important to me, not to make it big, scary or loaded. But she seemed to understand, and I'm just so proud of the girl she's growing up to be.
I keep thinking the hard parts with Ana are almost done (potty training, getting her to sleep on a regular schedule, all the "baby" aspects of motherhood), but that discussion was just a reminder: The challenges don't go away, they just change and evolve as the years tick by. Hopefully I can keep doing right by her, because she's a little voice who matters. Our kids can change the world someday if we let them – and teach them just how much our words really matter.