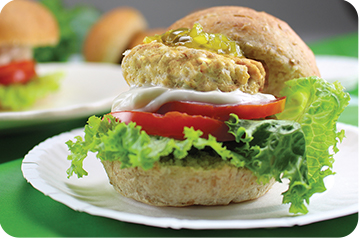 Here in Wisconsin, many of us are bummed that our favorite football team will not be headed to this year's big game on Sunday. On the plus side, watching the game is still a great excuse to get together with friends and family and enjoy delicious food. And, fortunately, it is possible to enjoy tasty game day treats without blowing your calorie budget. Check out this recipe for chicken patty sliders to help you score big … while keeping your calorie count small.
Ingredients (for 1 slider):
2 oz. lean ground chicken
1 1-oz. plain roll
1 t. regular mayonnaise
1 T. sweet pickle relish
2 thin slices of tomato and salad greens
Instructions:
Pack ground chicken into a patty and cook in a pan, using nonstick cooking spray.
Split roll and add tomato slices and salad greens to bottom half.
Place chicken patty on top of salad greens and tomato, then spread mayonnaise and pickle relish on top.
If you're tracking food exchanges, one slider counts as 2 proteins, 1 starch, 1 fat, 2 free exchanges and is about 230 calories.
Do you have any tips or ideas for enjoying the big game while staying within your calorie budget? Share them in the comments section below!
Members, you can find more tasty tailgating options in the August/September 2016 issue of TOPS News or in the Members Area of tops.org under Healthy Eating and Recipes.